Wickedly Funny Film Lampoons Beauty Pageants
by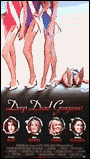 Anyone with even a slightly twisted sense of humor should ignore anything negative written about Drop Dead Gorgeous and head straight to the video store to check out this wild mockumentary about beauty pageants. Not since Waiting for Guffman has a movie contained so many hilarious characters and so much outrageous behavior. Like the earlier dark comedy, Drop Dead Gorgeous is about as subtle as an elephant at a tea party. And yet, screenwriter and former beauty pageant contestant Lona Williams swears that everything that happens in her film has happened at some pageant somewhere.
In Drop Dead Gorgeous, a documentary film crew goes to Mount Rose, Minnesota, where the citizens take their annual Miss Teen Princess Beauty Pageant very seriously indeed. Gladys Leyman (Kirstie Alley), a princess in her own youth, will stop at nothing to make sure her daughter Becky (Denise Richards), head of the Lutheran Sisterhood Gun Club, wears this year's crown. Becky's main competition comes from Amber (Kirsten Dunst), a talented student who practices her tap dancing while applying cosmetics to corpses in the local mortuary.
Alley, Dunst, and Richards play their roles to the hilt. They are completely believable in the midst of ridiculous situations, including an in-your-face pageant show parody. Each contestant is wonderful too. One does canine imitations for her talent, another a dramatic reading from Soylent Green, another laughs contagiously throughout her interview, and a finalist proclaims to the judges that her mother is her hero because "She would solve world hunger with one of her blue ribbon rhubarb pies, create world peace with one of her prayers, and still find time to look beautiful for my father."
The judges provide additional comic gems, especially a marvelous frowning woman who speaks not one word during the entire movie and an obnoxious little man who seems much too interested in the young contestants.
Is there a message here? Yes, and a surprisingly profound one in the midst of such hilarity. Drop Dead Gorgeous emphasizes that the end does not justify the means. However, the movie sometimes violates its own philosophy by going overboard in poking fun at mentally challenged individuals and at religion. Still, by taking that old saying "sometimes bad things happen to good people" and standing it on its head, this entertaining dark comedy emerges as a modern morality tale.
(Released by New Line Cinema and rated "R" for violence, sexual innuendo, and profanity.)