Play it Again, Damien
by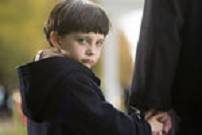 If any movie genre has evolved too rapidly to its own detriment, it's the horror genre. Its evolution is on a parallel track with that of rock music. These days, loud music is, well, loud, with deep bass, scathing guitar riffs, and nearly-hoarse singers often screaming into the mike (not that this is meant to be a disparaging description; consider it merely a description). What people of the mid-20th century thought was noisy rock music is actually quaint and mild to a teenager today.
Such an analyis also applies to horror movies. Today, we're in the middle of a gory stage, with the likes of mutilation-happy movies like Saw and Hostel. These exercises in discomfort make an old Dracula or Frankenstein look downright warm. The 1970s provided a peculiar collection of horror films, many of which were very scary in their time and perhaps feel only slightly scary now. But they do retain a certain something, a charm, for lack of a better word, that fans of the genre can return to, even if they may not actually be frightened by them.
1976's The Omen was one of these movies, and, perhaps when compared to some of the more hallowed entries, like The Exorcist or The Texas Chain Saw Massacre, it was one of the weaker ones. It's pretty hokey, but perhaps its most admirable trait (shared by most of its peers, frankly) is that it really really tried. It was quite serious about itself and attempted to disturb the audience through frightful imagery and a few shocks. Watching it recently, it felt more effective as a curiosity with a few cult moments.
And this is what makes the new version of The Omen such a curiosity. Unlike other recent horror remakes where the premise is used but the details are updated to a large degree so that it might be able to shake up modern audiences, this one appears to be filming the same script from 1976 (check out the writing credit: David Seltzer, the same as for the original version). Outside of an introductory sequence at the Vatican (to give this tabloid-ish tale some sense of modern relevance) and a few inserted (and useless) dream sequences, Omen 2006 is practically a scene-for-scene recreation.
I approached this movie with both dubiousness for its purpose and admiration for the very idea of simply trusting the source material to work just the way it is. Arguably, the production feels like a stunt poised to take advantage of a cool release date -- 6/6/'06 -- but the way the filmmakers chose to handle this project seems at least daring in a way. Will they embellish much? Will it feel like a relic already? Will it work at all?
For the answer, I go back to my statement about the original being a curiosity with cult moments. For me, a horror movie can be worth as much as the coolness with which they pull off their "moments," such as the 360-degree turn in The Exorcist, or room 237 in The Shining, or the final TV scene in The Ring. Those '70s horror movies specialized well in this area. '76's Omen, without spoiling them, had its own share of memorable scenes, though not as strong as those of other horror flicks, but not the least of which involved the photographer character. So if you've seen the original, you're going to look forward to seeing exactly how this literal remake pulls off these scenes.
John Moore sits down in the director seat once occupied by Richard Donner, and his take on the story of the possible emergence of the devil's son (Seamus Davey-Fitzpatrick) emerges as equally heavy in tone, while striving to execute scenes with more dire, believable urgency. For the most part, it works -- the fate of Father Brennan (Pete Postlethwaite), for instance, is more believable this time; and the conversation about the meaning of a certain poem between protagonist Robert Thorn (Liev Schreiber) and the aforementioned photographer, Keith Jennings (David Thewlis), doesn't feel as silly as before. But other adjustments add little or nothing -- the movie relies on several needless BOO! moments, and providing Thorn's wife Kate (Julia Stiles) a few extra little character development moments fails at giving her more dimension. In the end, I suppose everything evens out. (I will at least say, though, that casting Mia Farrow as the new nanny is a stroke of genius -- who better to protect Satan's spawn than Rosemary herself?)
Since new Omen has more similarities than differences with old Omen, a modern viewer may likely react to both in much the same way. It does feel quaint now -- like its predecessor, the new one takes its time, relishes its imagery and eccentricities, and really really believes it can freak you out, not with little kid himself, but with the idea of who the little kid is (still not as convincing to me is its overlying concern over the deterioration and perversion of faith and politics). It is, as they say, old school. But I find that a literal remake is not so terrible a notion -- it's like watching an old play performed by a new troupe. The story's unchanged, but it's interesting to see what the new crew can bring to the moments we look forward to seeing.
(Released by Twentieth Century Fox and rated "R" for disturbing violent content, graphic images and some language.)
Review also posted on www.windowtothemovies.com.