Something Different This Way Comes
by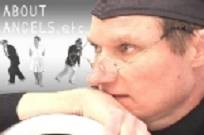 What do you get when you mix ballet, poetry, myth, philosophy, film and the Bible? In this case, something very charming and creative indeed. It's About Angels, etc., a short movie written and directed by V. Ulea. The main characters in this story require no introduction. However, the way Ulea depicts God, Adam, Eve, Angels and the Serpent is quite unique.
Based on her own book About Angels, About God, About Poetry, Ulea's unusual film-ballet presents the theory that a lonely God (Alexei Borovik, a principal dancer with Pennsylvania Ballet) needed communication, and that's why He created the Angels (Michael Dura and Tomas Dura). He simply wanted some intelligent conversation. But, lo and behold, the Angels turned out to be lock-step creatures who failed to give Him stimulating feedback. Next, God created Man -- hoping for better results. Unfortunately, Adam (André Vytoptov) was also a bit dull. If you don't succeed, try and try again -- so along comes Eve, who definitely shakes things up in the Garden of Eden.
"The creation of Eve could be interpreted as God's another attempt to create a human being who would be more predisposed to exploring the surrounding world," Ulea explains. "Eve turned out to be extremely curious and pioneering. She convinced Adam to taste the forbidden fruit and, thus, the new era for mankind began. Having mixed feelings, God banished his developed children from the Garden of Eden, to once again spend His eternal existence in loneliness."
Ulea (Four Funny Families) was wise to cast Abigail Menzer as Eve. The camera loves this beautiful ballerina. And dancer Vytoptov is very watchable as Adam. The couple's pas de deux atop an apple floating in a dreamy sky emerged as the film's highlight for me. But I have to admit being an avid dance fan, one easily pleased by lovely cinematic images like this.
Although the simplistic style of About Angels, etc. may not be to everyone's taste, it seems appropriate for such creative material. Use of a large cardboard tree to represent the Garden of Eden, tongue-in-cheek narration (by Michael Dura, clad in academic cap and gown), and a finger-puppet as the Serpent add to the whimsical charm of the production.
Monty Python's provocative intro, "And now for something completely different," is also a fitting way to salute Ulea's latest imaginative project.
(Released by Chariton Productions; not rated by MPAA. For more information concerning About Angels, etc., go to www.charitonproductions.com/about_angels.)
To hear Ulea discuss her films, click on this BlogTalkRadio link.