Familiar Thrills in CHILL FACTOR
by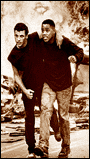 If imitation is the sincerest form of flattery, then filmmakers responsible for Speed should feel complimented indeed while watching Chill Factor. In the latter film, Skeet Ulrich and Cuba Gooding, Jr. replace Sandra Bullock and Keanu Reeves as the duo in jeopardy, and this time a chemical substance must be kept below a certain temperature instead of a bus above a certain speed. Fortunately for viewers, both treatments of this similar theme generate plenty of high-powered action.
In Chill Factor, the pairing of Ulrich (The Newton Boys) and Gooding (Oscar winner for Jerry Maguire) works surprisingly well, even though neither actor has appeared in an action flick before. Ulrich, who looks and acts like a young Johnny Depp, actually performs some of his own stunts, including dangling off the side of a moving ice cream truck. He plays Mason, a night shift worker at a diner whose fishing buddy just happens to be Dr. Richard Long (David Paymer), inventor of a chemical substance that could destroy everything for hundreds of miles if it melts. After being fatally wounded by a disgraced military officer (Peter Firth) who is hellbent on revenge against society, the scientist entrusts his dangerous invention to Mason.
Gooding portrays Arlo, an ice cream delivery man forced into helping Mason transport the destructive chemical to safety. As mismatched buddies, Gooding and Ulrich interact with impressive energy and humor. In the press notes, producer Bill Bannerman writes, "Skeet has an off center energy and Cuba is somewhat more grounded, but they both can be off-the-wall. They feed off one another in both the dramatic and comedic sequences. One could not have asked for a greater degree of spark and mirth."
The film's most exciting action scenes depict chases on steep mountain roads, high dives into freezing waters, fights on top of a moving truck, and fiery explosions galore. But one incident comes across as too farfetched even for this type of movie. When our heroes use a tiny aluminum boat to slide down a mountain, they cross the credibility line for everyone except the most gullible of moviegoers.
Although Chill Factor will not appear on any "best of the year" movie lists, its visual thrills and solid performances combine to make it an above average film treat.
(Released by Warner Bros. and rated "R" for strong language and violence.)