In the Mind of the Beholder
by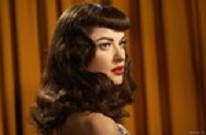 The beginning of what, for better and worse, we have become as a society, was the b&w and a little gaudy Technicolor '50s, which seem poised to be in style again. Beginnings, too, may presuppose an end to something else, and for all that era's hypocrisy and hidden racism, director Mary Harron's The Notorious Bettie Page portrays the Eisenhower decade as a time of campy, wholesome innocence.
Given the tack that Harron and co-writer, co-executive producer Guinevere Turner have chosen to take, and the way in which the filming is approached, the result is a rarity today -- a purely fun picture that neither apologizes nor psychoanalyzes nor points fingers. The story is based on the life of an unlikely pin-up queen of half a century ago, famous for bondage-fetish-SM magazine stills and Super 8 shorts, one of infant Playboy's earliest Playmates of the Month, a sex symbol in the days of Marilyn and the two Ja(y)nes, and with it all a religious girl from Bible-publishing Nashville who did not wring her hands or see any insuperable contradiction between her life and career.
In a black wavy mid-length wig with bangs adjusted to "catch the light and frame your face," Gretchen Mol is perfect as Bettie. But then, reinforced by camera and lighting techniques and film stocks, the entire cast captures the awkward earnestness, and awkward acting, of the non-Brando 1950s.
Residing somewhere in California, and reportedly having objected to the word "notorious," the eighty-three-year-old Page had a quite checkered life after her heyday, though her popularity rose again in the '80s and will now do so once again. But the film is not about whys and wherefores, and its heroine is a good-natured natural who will take 'em off as easily as leave 'em on to please an audience --"it's only a little piece of fabric" -- or debate her career's compatibility with Jesus while posing for sexy shoots.
The religious frame of mind is not trashed here, and Bettie can joyfully return to the fold without shame or sniggers. Nor are bad marriages and an unseen gang rape given much story time or offered as rationale for what she does.
After failed goes at teaching and marriage, Page tried luck in New York. In the big city, between secretarial jobs and acting classes, she drifts through chance encounters to the growing world of modeling-slash-pin-ups and beyond, to half-siblings Irving and Paula Klaw's (Chris Bauer and Lili Taylor) Movie Star News, which upstairs did non-exploitative bondage films and stills for well-heeled private clients. With the protective Klaws running the business as a mom-and-pop affair and mothering the models, the set-up is goofy instead of sordid or lewd, as, to cha-cha music, photographer Paula brings out fuller garments for more coverage when "something is peeking out."
"When [Bettie's] nude," remarks full nudity Miami photographer Bunny Yeager (Sarah Paulson), "she doesn't seem naked." But obscenity, it turns out, is in the mind of the beholder. Though later satirically labeled "the perv pin-up of choice," she and the era are portrayed here as fundamentally innocent, akin to Judy Holliday's Billie Dawn and Marilyn's Sugar Kane even more than self-rationalizing Lorelei Lee. There is absence of malice, for the film resists the easy temptation to ridicule the likes of also Tennessean Senator Estes Kefauver (David Strathairn), the framing televised hearings into pornography and the bereaved father who testifies. The models themselves are sympathetic girls having fun, the photographers and customers are likable oddballs, Bettie's stay-at-home sister and pen pal Goldie (Alicia Sable) is fully understanding, and no one is hurt.
All in black, stiletto heels, backseamed thigh-highs, tap pants, brassière or bustier, "give me 'pert' . . . 'haughty' . . . 'saucy,'" Mol's Page laughs delightedly. Mature audiences will, too.
(Released by Picturehouse and rated "R" for nudity, sexual content and some language.)