An Imperfect, Glorious Film
by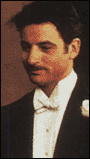 One of the characters in An Ideal Husband remarks, "It takes great courage to see the world in all its tainted glory and still love it." Who can disagree? So what if nobody's perfect. It just makes things all the more interesting. And that goes for this superb film adaptation of Oscar Wilde's classic play. Here is a movie whose few imperfections never detract from its charming characters and elegant plot.
Although slow moving in the beginning and difficult to understand at times because of some marbles-in-mouth British accents (Minnie Driver, in particular), An Ideal Husband is a must-see movie. It tells the story of a respected Member of Parliament (Jeremy Northam), a man facing personal and professional disaster at the close of the 19th century in London. Northam (The Net) is happily married to a beautiful woman of high principles (Cate Blanchett) who greatly admires her husband's political success.
Everything begins to unravel when a seductive blackmailer (Julianne Moore from End of the Affair) threatens to reveal a secret from Northam's past that could ruin his reputation, career, and marriage. His best friend (Rupert Everett), the most idle man in London, offers to help him. Everett just happens to be in love with Northam's spirited sister (Minnie Driver from Good Will Hunting), so he is doubly eager to please him. But his amusing efforts only make things worse --- at least for awhile --- in scenes reminiscent of those screwball comedies from the 40s and 50s.
Director/screenwriter Oliver Parker (Othello) masterfully opens up the play for the big screen, giving the film a My Fair Lady-like visual appeal. But he wisely retains much of Oscar Wilde's original witty dialogue, most of it spoken by the marvelous Everett as Lord Goring, a man who believes, "To love oneself is the beginning of a lifelong romance." While getting dressed for an important party, Goring informs his butler, "Fashionable is what one wears oneself and unfashionable is what others wear." He also declares, "A well-made buttonhole is the only link between nature and art."
Everett and Blanchett deliver performances of award-winning caliber in this period romantic comedy. Both show enormous charisma and talent, a sure-fire combination for stardom. When Blanchett's character realizes even she isn't perfect, this Oscar-nominee (for Elizabeth) fascinated me with her astonishing emotional changes. But it is Everett (My Best Friend's Wedding) who carries most of the film with his humorous sarcasm and blissful approach to bachelorhood.
An Ideal Husband has an agelessness about it. Director Parker states, " I thought it had terrific contemporary connections." Everett agrees. "The issues Wilde addresses, like moral repression and political scandal, are quite contemporary," he observes. Driver adds, " The tolerance in Wilde's work is extraordinary. . . he comes out with this wonderful theme: we are none of us perfect. There is grace, beauty and love in imperfection."
That same grace, beauty and love shine through in An Ideal Husband.
(Released by Miramax Films and rated "PG-13" for brief nudity and sensuality.)