Audience Treated Like Football
by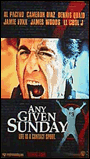 Viewers who enjoy beating their heads against a brick wall, because it feels so good when they stop, should find similar masochistic pleasure in Any Given Sunday. Oliver Stone's juggernaut of a football movie pounds the audience with rapid-fire images and thunderclaps of sound. Al Pacino (The Insider), as the coach, yells his lungs out while gladiators collide and fall, making the loudest thumps ever heard on film. Players vomit, moan, and whine as hand-held cameras record every movement of the game in jerky shots too speedy for human consumption. And that's just the opening scene!
Although it's important for critics to sit through an entire movie before writing a review of the film in question, this one was impossible to watch without suffering severe migraine. And so, dear reader, I confess to leaving early. But I am not the only critic who left during the press screening. In addition, there were others who admitted wanting to exit before this flick ended. Maybe it's just "an age thing." Because of their exposure to MTV and video games, some younger moviegoers might give thumbs up to the eye-piercing images and deafening soundtrack of Any Given Sunday.
Judging from the part of the movie I did see, never has so much talent been wasted in such cinematic chaos. Pacino's fans may appreciate his shouting matches with practically everyone in the cast, but most Cameron Diaz (There's Something About Mary) admirers will be disappointed by her unconvincing performance as the owner of a professional football team. As Diaz's alcoholic mother, the usually entertaining Ann-Margret (Grumpy Old Men) is practically unrecognizable, and worse yet, dull. Other members of the star-studded lineup --- James Woods, Jamie Foxx, Dennis Quaid, LL Cool J, Matthew Modine, Lauren Holly, Aaron Eckhart, John C. McGinley, Charlton Heston, and 7 real-life football Hall of Famers --- fare no better, thanks to the undisciplined direction of Oliver Stone (U-Turn).
In all fairness, a few critics are calling Any Given Sunday one of the greatest football movies ever made. Granted, it examines a cross-section of people involved in the sport --- from the players, their coaches and families to the fans, team owners, and sports media. However, it comes across as a hodge-podge of Americana with little to cheer about. For a much better football film, check out Varsity Blues at your favorite video store.
(Released by Warner Bros. and rated "R" for strong language, nudity, and sexuality.)