A Scary Movie? You BATcha!
by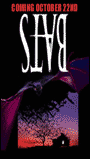 Some movies just have to be seen on the big screen to get the full impact of their chilling special effects. Bats is definitely one of these films. Sitting in a dark theatre -- one equipped with the latest sound technology -- enhances the thrills of this horror flick about genetically altered creatures spreading terror through a small Texas town. And thrills there are.
When hordes of shrieking bats swooped down on their human targets in this movie, I was tempted to brush them away from my own hair and shout "Eeeek!" I found the sensation similar to the experience of virtual reality or those old 3-D movies. Director Louis Morneau (Crackdown) tried to give the film a sense of realism and also tap into the fear of the unknown. "We wanted to make it seem like you are actually experiencing the horror of being surrounded by these creatures," he explains in the press notes. He certainly succeeded with his goal. A few horrific scenes in Bats are almost too real and terrifying.
Down through the ages, bats have ben associated with superstition, black magic, vampires, etc. That's why they seem so weird to humans. But these harmless mammals have been given a bad rap. In reality, none will get tangled in your hair, suck your blood (well, some may lap it up), or give you rabies any more than other wild animals. Because they help control insects and pollinate flowers, bats play a positive role in our ecosystem.
Dr. Sheila Casper (Dina Meyer), a zoologist with a passion for bats, knows all this. After unexplained bat attacks leave several people dead in Gallup, Texas, she goes there to find a way to stop the carnage. Working with the local sheriff (Lou Diamond Phillips), Dr. Casper and her assistant (Leon) discover the bats have been infected with a virus which causes them to become ferocious killers. Who is responsible? Surely, you don't need three guesses to answer that question. A scientist (Bob Gunton), of course! (Where would horor movies be without scientists?)
Assigned fairly unchallenging roles, the cast members perform as well as can be expected in this creature/feature treat. Thankfully, there are no screaming teenagers, supernatural beings, or haunted houses, and that's refreshing. Although Bats may not be as funny as Lake Placid nor as scary as The Birds, it should provide a welcome fix for many horror film addicts.
(Released by Destination Films and rated PG-13 for intense sequences of bat attacks and brief strong language.)