Little To Laugh About in BIG DADDY
by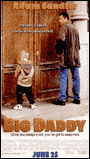 Just when you thought it was safe to see another Adam Sandler movie, along comes Big Daddy. After entertaining viewers so smashingly in The Wedding Singer and The Waterboy, Sandler falters as Sonny Koufax, a law school graduate who tries to avoid responsibilities at all costs --- until an adorable five-year old boy changes his mind. The popular Saturday Night Live veteran appears uncomfortable playing a character somewhat older than his customary roles.
Although some scenes between Sandler and the child (played by identical twins Cole and Dylan Sprouse) are tender and amusing, too many of them substitute crudity for creativity. An emphasis on bathroom humor has become the bane of a film critic's existence these days, and Big Daddy is no exception. However, those who enjoy jokes and sight gags about bodily fluids should be rolling in the aisle through much of this film.
If you are a parent, don't expect useful child-rearing tips from Big Daddy. Compared to Sonny (Sandler), Homer Simpson is the Father of the Year. Tripping Rollerbladers, smashing cans of food, and relieving oneself in public places are among the skills this would-be poppa teaches his young charge. Why did this immature man get involved with a pre-schooler? Because he wanted to impress his girl friend (Kristy Swanson) concerning his new sense of responsibility. But, when this doesn't work, Sonny agrees to care for the child until appropriate foster parents can be found. And care he does --- in his own juvenile manner.
Joey Lauren Adams (Chasing Amy) gives the film its best moments. With her winning smile and quirky voice, she charms and delights viewers in the role of a hard-working attorney who appreciates Sonny in spite of his faults. Describing her character in the press notes, Adams says,"Sonny's at one extreme, and she's at the other, and like most things in life they balance each other out. She's all work, work, work and he's all play, play, play, and they reach a happy medium."
Other solid support comes from Rob Schneider as a take-out delivery guy, Leslie Mann as the girlfriend of Sonny's roommate, Joe Bologna as Sonny's unsympathetic father, and Steve Buscemi as an outrageous homeless man. They each add a bit of fun to the proceedings but fail to rescue viewers from the film's comedy doldrums.
Big Daddy tries to enlighten moviegoers about what's needed for a rewarding father-son relationship. It hopes to show how caring for a child can help someone grow up themselves. But its gross-out sequences overshadow such good intentions. Anyone wishing to explore this theme further should inquire about Kolya at their favorite video store. Winner of the Best Foreign Language Film Oscar two years ago, this poignant movie about a single man raising a young boy left with him tugs at heartstrings with a depth sadly missing from Big Daddy.
(Released by Columbia Pictures and rated "PG-13" for crude humor and language.)