The Write Stuff?
by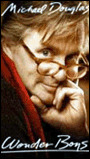 What could be worse for an author than writer's block? Perhaps writing too much and not being able to end the work in progress. At least that's the situation depicted in Wonder Boys, a human interest comedy from Curtis Hanson, the acclaimed director of L. A. Confidential. In this sometimes misguided film, Michael Douglas stars as Grady Tripp, a college professor whose first novel won the prestigious Pen Award.
That was several years ago, and Tripp has published nothing since. Why not? Maybe because he's been smoking pot, having an affair with the chancellor (Frances McDormand), and trying to motivate budding writers. He keeps telling editor Robert Downey Jr. he's almost finished with his second book, a gigantic tome of more than one thousand pages. But Tripp is the Energizer Bunny of prose ---he just goes on writing and writing and writing.
During one fateful weekend, the professor takes a talented, but disturbed, student (Tobey Maguire) under his wing. As a result of this act of kindness, events unfold that force both Tripp and his student to make drastic changes in their lives. A blind dog, a transvestite, a sexy classmate (Katie Holmes), a pompous author (Rip Torn), and Marilyn Monroe memorabilia --- all play a part in the ensuing mayhem.
Cast members deliver first-rate performances in Wonder Boys. Douglas (The Game) may look a little too rumpled and seedy, but he certainly gets everyone's attention in this very different type of role. Maguire (The Cider House Rules) shows terrific star potential. With his hypnotic voice and wide-eyed innocence, he arouses the audience's empathy no matter how bad his behavior.
Unfortunately, a questionable moral tone permeates this uneven movie. The college professor engages in illegal activities; the student lies incessantly; adultery is treated matter-of-factly, etc. There's lots going on, but much of it is more serious than funny. Billed as a comedy, Wonder Boys is about as amusing as a driver's license exam.
Still, there are moments of brilliance here --- particularly Maguire's dour recitation of suicides by movie stars and his expression of delight while viewing a Judy Garland musical on television. McDormand's understated portrayal of the college chancellor is also a gem. It's her best work since winning the Oscar for Fargo. Douglas, of course, always brings something special to his roles. Regardless of the movie's faults, fans will not want to miss Douglas' unique over-50-coming-of-age performance in Wonder Boys.
(Released by Paramount Pictures and rated "R" for strong language, drug content, and sex-related material.)