Oliver! with an Added Twist
by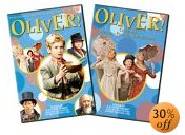 On the eve of Roman Polanski's big budget rendition of Charles Dickens' Oliver Twist, the beloved 1968 musical Oliver! is getting a splendid new treatment on DVD. Having been released twelve other times on video and DVD -- including a 30th Anniversary Edition -- the new gift package stands apart from all previous video and DVD versions by tossing in something old, something rare and perhaps something new for most viewers.
For the first time in decades, the out-of-print film soundtrack has been released as part of the new DVD gift set. The CD contains all fourteen of the original songs from the award winning Lionel Bart score. Favorites such as "Pick a Pocket or Two," "Food Glorious Food," "Oom-Pah-Pah" and "Consider Yourself" (regarded as the signature Oliver! number) are released in a new digitally rendered CD. This long-lost soundtrack is the true treasure for Oliver! fans the world over and warrants buying the new gift set even if you own other versions on video or disc.
Oliver! is set in the dirtiest slums in London during the 19th century. Oliver (Mark Lester) has to face more than most 9-year-olds his age. Living in an orphanage has not been easy on him. He learns quickly and the hard way that sometimes it is best not to be outspoken around adults or confront them. He complains about small portions for his dinner offerings, which results in the poor lad being sold to a man who keeps him in bondage. However, Oliver escapes and ends up back in London.
From there the little scamp meets the Artful Dodger (Jack Wild) who is nothing more than a thief. His talent -- as well as that of all his friends -- is pickpocketing. These boys are in a gang led by a man named Fagin (Ron Moody). Although Fagin persuades Oliver to work for him, a problem arises when he introduces Oliver to his friend Bill Sikes (Oliver Reed) and wife Nancy (Shani Wallis), who takes on a motherly role to the young lad. This does not sit well with Sikes, so he falsely accuses Oliver of stealing from everyone. Will Oliver have the guts to stand up for himself or not?
The acting here is excellent and well-crafted. Ron Moody puts in a wonderful performance that earned him a Best Actor nominaton for the 1968 Academy Awards. While he did not win, he took home a richly deserved Golden Globe. Jack Wild was also nominated for Best Supporting Actor. The coveted Best Director award went to Oliver! director Carol Reed. A special award was created just for Onna White and her beautiful choreography of the various musical numbers.
Brilliantly photographed, written, scored, directed and acted, Oliver! is as entertaining and captivating on this new DVD transfer as it was when the movie was first released.
(Released by Columbia TriStar Home Entertainment.)