Another TOY STORY Treat
by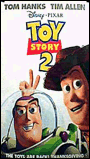 Buzz Lightyear, Woody, and all the other toys in Andy's room are cuter than ever in Toy Story 2. Thanks to Pixar's animation progress since the first Toy Story movie in 1995, each character appears more realistic. And the entire film has a much softer look. In addition to their old favorites, kiddies will love the colorful new toys who join in this new adventure, especially Jessie, the gymnastic cowgirl, Bullseye, the playful horse, and Stinky Pete, a suspiciously friendly prospector.
Cowgirl Jessie, as voiced by Joan Cusack (Oscar winner for In and Out), appealed to me right away. She's extremely funny when excited, and oh-so heartbreaking when sad. Her mood swings get plenty of laughs from young and old alike. No matter how impressive the technology, it's wonderful voices like Cusack's that bring animated characters to life for the audience. For example, Tom Hanks and Tim Allen use perfect timing, emotional inflection, and verbal attitude to make Woody and Buzz Lightyear more than toys. Because of these talented actors, Woody (Hanks) and Buzz (Allen) seem like friends I would like to have in real life.
In Toy Story 2 , an obsessive toy collector kidnaps Woody. Naturally, Buzz and his co-horts can't let their pal down, so they engage in daring efforts to rescue him. Their exciting mission takes them across busy downtown streets to Al's Toy Barn and, finally, to a congested airport. While inside the Toy Barn they meet Barbie, another Buzz Lightyear action figure, and the toy that just happens to be Buzz's archenemy, Emperor Zurg. They also get their first glimpse of Woody's new friends who have persuaded him to stay with them. Woody finds it hard to resist Jessie, Bullseye, and Stinky Pete (voiced by Kelsey Grammer). They are part of a unique Woody's Roundup collection, and Woody is needed to complete the set before it's sent to a museum in Japan.
This delightful film pokes fun at Star Wars, Close Encounters, and 2001: A Space Odyssey as well as at video games and television shows like Howdy Doody. But it's done lovingly. There's gentle humor throughout. Even in the midst of fantastic visual treats, laughter prevails. Watching such scenes as a little toy truck chasing a huge airplane on a runway gave me a thrill, but I couldn't help chuckling at the audacity of it all. Toy Story 2 is a creative, amusing treat for the whole family.
(Released by Walt Disney Pictures-Pixar and rated "G" as suitable for general audiences.)