Old Soldiers Never Die . . .
by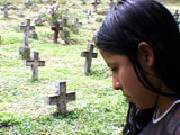 Entertainment over enlightenment, scores of noirs and populist films from the studios' Golden Era nevertheless depicted ghetto marginalization, despair, violence, guns, illegitimacy and substance (usually hooch) abuse. Long before graphic trickery, without verbal and visual obscenity they touched an ulcer that, with some exceptions, is currently given less honest treatment by domestic filmmakers and thus comes, shamefully undistributed, from abroad.
City of God reached wider audiences than most such efforts, making Rio unwilling Exhibit A among many candidates. Jointly sponsored by Human Rights Watch and the Film Society of Lincoln Center, this month's 16th Annual Human Rights Watch International Film Festival, "cinematic conscience of the world," presents evidence from twenty countries. So numbingly powerful that one film historian confided that he cannot watch any more, the twenty-six entries probe abuse, violence, war, inequality and poverty throughout the global village.
As representative as any, and yet particular, is a documentary from a Colombia whose previous hard-hitting Secuestro: A Story of a Kidnapping and The First Night/La primera noche, even vanity project Emerald Cowboy/Esmeraldero, found no foothold here. Although no one can fail to know of that resource-rich nation's drug wars, U.S. involvement, and civil strife of forty years and thirty-five-thousand corpses and counting, such news is not now front page. But do see La Sierra, for its quality as documentary, for its makers' great courage and, not least, for parallels it offers on issues within our own society.
Despite their considerable journalistic experience in Colombia and rare safe-conduct from upper-echelon paramilitaries, codirector/-producers Texan Scott Dalton and Bogotá's Margarita Martínez faced a year of Under Fire peril in purposeless gunmen, shifting allegiances, snipers, grenades and stray bullets: "Get down, gringo!" Its aim not merely to record what National Geographic termed "a pageant of violence" in Medellín's (pop. 1.2 million) hillside La Sierra neighborhood, this their first film humanizes the rank-and-file cannon fodder of peónes who wage warfare's dirty work for government, theoretically leftist ELN guerrillas or proscribed right-wing paramilitary bands.
Nourished by squalor, lack of educational and job opportunities, hopelessness, and a macho code of drink, drugs, and womanizing and fathering (or bearing) babies, the barrio's children and adolescents seize the path available to them for small-time power and respect. Flaunting their arsenals, they pose like cowboys or toy soldiers while talking of women or family problems, territoriality among rival factions, the accepted imminence of death, the impossibility of getting out. Of the bases of true power, in the world's capitals, they are woefully ignorant.
Specifically, the film is built around three participants, who are not interviewed but simply talk as photographer Dalton's DVCam follows along in their moments of danger, of reflective dreams, of enjoyment of small often family pleasures, and of sorrow.
There is Cielo (which translates as "Heaven") Muñóz, fairly representative of her peers: widowed and a mother two years before at fifteen, she wants a man, Sunday-visits jailed paramilitary boyfriend Carlos and hawks penny candies on city buses as alternative to "selling my body for money" even though "nobody's life is worth anything." Drug-user fatalist Jesús Martínez is, at the same age, a mid-range Barrio Metro paramilitary who lost an arm and almost an eye in a homemade grenade mishap.
At the center is engaging, articulate Edisón "The Doll" Flórez, a "Rambo . . .máquina de guerra [in] my war" for seven of his twenty-two years and now Jesús' commander and virtual leader of the community; in between, he talks of responsibility to local residents as well as to his six offspring and six women, of the draw of motorcycles and weapons, and of his now-religious father.
Children who offhandedly murder (or are murdered), they mention "causes," but at bottom their battle is scarcely about slogans or publicly spouted issues. Against expectation, we grow to care for them and want to rescue an innocence they never had. And we mourn such blighted lives when seconds of not unexpected, off-camera death claims one.
"They are seeking Death in life, as best to have." They are ours, and the world's.
(Released by Film Transit International; not rated by MPAA.)