For Better or Worse
by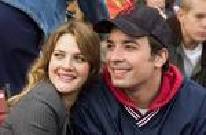 If you think you've met the perfect guy or gal, you just don't know that person very well. Fever Pitch, an insightful romantic comedy starring Drew Barrymore and Jimmy Fallon, illustrates this inevitable fact of life with humor and heart. Happily, a sweet chemistry emerges between these two watchable actors, making this movie (directed by the Farrelly brothers and based on Nick Hornby's novel of the same name) a joy to behold -- even when the characters played by Barrymore and Fallon do some pretty silly things.
Lindsey (Barrymore), an ambitious business consultant, finds herself in a love triangle when she falls for Ben (Fallon), a charming and funny high school teacher. "You're a lyrical soul," she tells him. "You can love under the best and worst conditions." (Their horrible first date would certainly qualify as one of those "worst conditions.") But instead of another woman, Lindsey's competition comes from the Boston Red Sox. Because Ben is obsessed with the Bosox, his life revolves around his beloved baseball team. Unfortunately, baseball is about as important to Lindsey as business is to Ben, so it's no surprise when their relationship faces a serious crisis. To survive as a couple, Lindsey and Ben must decide if they can overcome their differences and keep love alive.
No doubt quite a few women will identify with the theme here. A man's obsession with sports can sometimes drive his wife or girlfriend crazy. It doesn't have to be baseball. For example, I can attest to personal experience as a "golf widow." My husband spends most of his time playing golf or watching it on television -- and at first this annoyed me (to put it mildly), but I've learned to deal with it. In fact, I'm even happy now that he finds such pleasure in the game of golf. And I think he's come to accept my similar obsession with all things movie related.
Evidently, those kinds of compromises are what drew Barrymore to Fever Pitch. "It's first and foremost a love story," she explains. "You could remove the baseball component, and the questions it asks would remain the same: How much do you have to change to have a successful relationship? To what degree do you accept a person for who they are and just work with it?"
Barrymore picked Fallon (Taxi) to co-star with her in Fever Pitch because she enjoyed working with him on Saturday Night Live. A wise choice -- Fallon hits a home run as Ben. He prepared for this role by traveling to Boston's Fenwick Park and meeting Boston Red Sox fans who were just as obsessive as his character in the movie. "I got caught up in their enthusiasm and the whole Fenway Park experience," he says. That trip paid off for Fallon -- I definitely believed in Ben's overwhelming passion for the Red Sox.
Fallon and Barrymore make a cute on-screen couple. He's like a kinder, gentler Adam Sandler, and she's as luminous as ever. Because of Barrymore's appealing performance in this film as well as in Ever After, The Wedding Singer and 50 First Dates, she should be crowned "Queen of Romantic Comedy." Hope I'm invited to the coronation.
(Released by 20th Century Fox and rated "PG-13" for crude and sexual humor, and some sensuality.)