The Arrival of Rai
by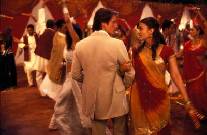 How hyped up are reports of Aishwarya Rai's beauty? Famous film critic Roger Ebert recently made the statement that Rai was "the world's second most beautiful woman." When one of his readers asked him who he considered the first, Ebert rather humorously replied, "Aishwarya Rai is also the world's first most beautiful woman."
But there is more to this than simply an opportunity for a witty remark. Two of my friends (one male, the other female) have made the same claim. A large part of their admiration came from watching her turn in Devdas, the lavish Bollywood production of a beloved Indian novel. After seeing the movie for myself, I wrote in a capsule, "Rai's natural beauty anchors the film's three best musical numbers." People who see Devdas aren't watching it only for its melodrama -- in a Bollywood movie, the song-and-dance performances are just as crucial. And if they're looking for something more to infuse those numbers with life, they need look no further than Rai's presence. She is indeed what movie stars are made of.
Bollywood audiences have known this for a few years now, and the time has come for Rai to make her English-speaking debut, heading to the shores of America. The movie is Bride and Prejudice, an attempt to adapt Jane Austen's Pride and Prejudice as a modernized, multi-cultural, musical production. This is not an idea unique to this work -- Bollywood has long been in the habit of taking well-known stories and turning them into melodramatic musicals. But this one is distinct because it's a mixed breed -- it's really an English movie done as a Bollywood movie. Its director, Gurinder Chadha, could not have been more appropriate for the job -- she's a British-raised Indian whose last movie was the culture-crossing Bend it Like Beckham.
More than anything, though, the movie is a showpiece for Aishwarya Rai -- or, at least, it ought to have been. Rai makes the most of her opportunity here; she reportedly gained some weight for this role, but, whatever the case may be, her appearance is a welcome counterpoint to the waifs America has to offer. A healthy body combined with the face with those enormous eyes creates a sexiness that outclasses the actresses on these shores. Rai also impresses with her English, which sounds entirely comfortable. Playing the Elizabeth Bennet role (here named Lalita Bakshi), her image may be hurt a bit by having to play somewhat of a cultural snob; although she gets by well enough, acting isn't her stronger suit. Her specialty is dancing.
And this leads to the major problem with Bride and Prejudice. It's not structured to accomodate those strengths -- the musical numbers aren't particularly memorable, and are spread out in such a way that there are more in the beginning than there are at the end. It lacks a big showcase piece for Rai, and the ending doesn't feature an exciting closer. Also, successful Bollywood movies often contain the presence of a charismatic male lead, but here the leading man, Martin Henderson, isn't quite up to the task. Unfortunately for him, he has two images to live up to: the popular image of the Darcy character as some version of Colin Firth; and the image of a man who would be able to match the radiance of Rai. As a result, the imbalance between female and male lead is too conspicuous, and the movie as a whole struggles because of it.
Although these issues detract from the movie's effectiveness as a star vehicle, nevertheless this humorous, lighthearted journey is mostly a pleasant one. It's another reminder that watching a musical is a fun way to pass the time, giving us fans more cause to lament their scarcity these days. In that spirit, Bride and Prejudice, spunky and fully embracing of its leave-it-all-out-there Bollywood roots, fills the bill.
(Released by Miramax and rated "PG-13" for some sexual references.)
Review also posted at www.windowtothemovies.com.