Spanish Passions
by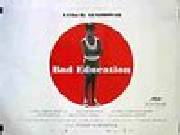 Bad Education is Pedro Almodóvar's first film since his Oscar-winning triumph, Talk to Her. With that film, Spanish filmmaking's enfant terrible seemed to grow up as a director -- it was his most serious, adult and ulimately most moving film. The question is -- with Bad Education, has he stuck with the mature new style or is it a baudy, outrageous sex comedy like he used to make? It's a bit of both really. It's got the flamboyant elements -- sex, drugs and drag queens -- but it also tackles the serious, and controversial, issue of pedophilia in the Catholic Church.
The film's plot is difficult to explain, because it's fairly complex and there are plenty of twists to (not) give away. The story consists of three layers -- it's about a book within a film within a film, and each of these stories carries echoes of the other two. In the first story, a young choir-boy is sexually abused by a priest and then grows up to be a transsexual (played by Gael García Bernal). He writes down the story of his childhood abuse, then blackmails the priest by threatening to publish it. All this is actually the film within the film -- as a young actor (also played by Bernal) hooks up with his childhood sweet-heart (Fele Martínez) to make a film about the blackmail and it's consequences.
Confused? Bad Education isn't really that difficult to follow if you pay attention. And it's fun to try to spot the twists before they happen. In the last half hour the film takes a totally different direction. With the sub-plots resolved, the main story -- about the two film-makers -- becomes a kind of film noir homage, with several references to classics like Double Indemnity.
Bad Eucation is great fun, but its many sudden shifts in tone have the effect of drawing the audience out of the film. These changes in style and mood are not exactly gimmicky, but they do draw attention to themselves and prevent viewers from becoming completely involved in the drama. This was not such a problem with Talk to Her, which had a much more consistent, unified feel to it. Still, Bad Education is one of the year's liveliest, most entertaining films. A single frame of an Almodóvar film often contains more passion and excitement than an entire Hollywood special effects extravaganza.
The film also represents a brave move for its Mexican star Gael García Bernal, the Latino heart-throb of the moment, and star of the recent The Motorcycle Diaries. He completely subverts his boy-next-door image by playing two rather unwholesome characters -- a drug-addicted transsexual and an aspiring actor who will stop at nothing, not even murder, to get what he wants. Bernal even appears in gay sex scenes that are explicit enough for the film to have been given an NC-17 rating by US censors.
It just wouldn't be an Almodóvar film without sex, would it? Bad Education also contains plenty of its director's other trademarks to delight his fans -- it is bold, inventive and often riotously funny.
(Released by Sony Pictures Classics and rated "NC-17" for explicit sexual content.)