Guessing Game Gimmicks
by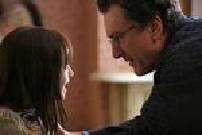 Had it been made more cheaply, Hide and Seek might have been better. I don't mean that it has the feel of some kind of big budget feature, but because of its A-list star Robert De Niro and some not-so-unknown actresses like Dakota Fanning, Famke Janssen, and Elisabeth Shue, the film probably suffers from taking itself too seriously. A cast of green up-and-comers might've been able to pull off this unambitious genre plot with a sense of being in on the joke; as it is, De Niro and company only create a higher potential for embarrassment.
And embarrassing it is. This is another movie that exists only for the sake of its ending. Everything that happens leading up to that point seems more concerned with creating a manufactured sense of tension that's supposed to be released at the end, regardless of whether or not it's logical. It fails because the water-treading portion of the movie literally feels like water-treading, and the ensuing payoff isn't particularly satisfying.
I'm willing to concede that the edge of Hide and Seek's ending is blunted by the growing pool of these kinds of movies with similar endings. There's simply too many of them now, and it's starting to feel as if each one is less and less imaginative. The question becomes, how many movies like this do any of us have to see before we second guess them to death? If you've had your share of M. Night Shyamalan-knockoff thrillers, you're going to walk into future offerings of these flicks and start ruining them for yourself because you know all these writers' tricks. Then they all just start feeling gimmicky.
In Hide and Seek's case, point B doesn't even follow sensibly from point A, so it feels like it's cheating, trying to do less work to justify its resolution. Fanning's character forms the basis of the tension, but the path she follows in the story makes no sense. In short, she's De Niro's daughter, and she has this imaginary friend that causes real trouble in the physical world. She acts the way she acts (i.e., creepy and disturbed) just to put the audience at unease, and whether or not it works for her character doesn't seem to be an issue. This is because the movie can easily fall back on the "trauma excuse" to explain her actions. And that's plain lazy.
Believe it or not, this is actually the first time I've seen Fanning in anything, and I'll admit I admired her performance, even though her character was annoying. The fuss over Fanning seems to be that she plays much older than she seems to be, which makes her kind of creepy, but I guess that should work out well for a movie like this. It's amusement over her little onscreen duels with super-veteran-actor De Niro that give Hide and Seek what little entertainment value it has. It's certainly more interesting to wonder what De Niro is thinking of his precocious co-star than to second-guess the destination of this easily forgotten entry in the oh!-bet-you-didn't-see-that-coming sweepstakes.
(Released by Twentieth Century Fox and rated "R" for frightening sequences and violence.)
Review also posted on www.windowtothemovies.com.