Are We Done Yet?
by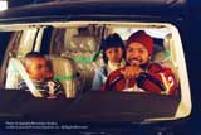 The central message in Are We There Yet? may be one of sincerity and wholesomeness, but the road traveled to get there includes humiliation, hatred, materialism, mean-spiritedness and the confirmation to children that it's OK to be little brats. Perhaps I'm being a bit too harsh, but it's hard to remain neutral when a film's moral compass comes not from human emotion but rather in the form of a wisecracking, bobble-headed caricature of pitching legend Leroy Page that not only sullies the memory of ol' "Satchel," but also cheapens the standards of what we know as common human decency.

Nick Persons (Ice Cube), a washed up minor league ball player, now owns a sports memorabilia shop in Portland, Oregon. Loaded with "blingage" from head to toe, Nick picks up his new Lincoln Navigator, customized with spinning rims and a killer sound system. I'm not sure how a shopkeeper can afford such accessories, but I guess that's beside the point. What is the point? That Nick loves his ride and it's going to take a special force to separate the two.
We learn early on that Nick is an eligible bachelor who loves women but despises children. However, his "no kids" policy is quickly put to the test when he meets the gorgeous Suzanne (Nia Long), a career woman whose husband recently walked out, leaving her alone with two children. Elevenish Lindsey (Aleisha Allen) and eightish Kevin (Philip Bolden) have made a pact to wreck any new relationship their mother strikes up, hoping their father might come back in their lives. At first, their schemes involve rather benign pranks along the lines of those in Home Alone, but by the time the credits roll, not only are we questioning why Nick would still want anything to do with this family, but we're also wanting to call child protective services to report the mother for condoning such sadistic behavior.

When Nick capitalizes on an opportunity to impress Suzanne by agreeing to drive the kids to Vancouver, the film becomes a formulaic road trip movie along the lines of National Lampoon's Vacation. Their journey begins innocently enough and quickly escalates into a full-blown nightmare as the trio encounters everything from overactive bladders, to rabid deer and psychotic truckers.

The best thing about Are We There Yet? is Ice Cube. He has a smooth delivery and unique comic timing that oozes coolness. But he gives it up for his career in this one. At any given moment he's either getting thrown from a horse, being vomited on or taking a woodsman's axe to the groin. Nevertheless, somehow his love for the children grows as his Navigator disintegrates.

The kids never come off as either believable or loveable. And while we're at it -- they're not funny either. I like childish shenanigans and humorous sight gags as much as the next guy, but when it comes to breaching the investment we've put into teaching children how to protect themselves, I have a low threshold for acceptance. One particular scene is not unlike faking a 911 call just to pull a prank on someone.

The film's spirit seems so downright mean and distasteful that by the time we reach the end, what was meant to be a tender, heartfelt reunion of the children with their mom, feels more like a much-needed confirmation to the audience that the agony of watching this film is finally over. Instead of walking out of the theater pleasantly entertained with a warm heart, I found myself wondering how to explain its lack of common decency to my youngster.
(Released by Sony Pictures Entertainment and rated PG for language and rude humor.)
Review also posted at www.franksreelreviews.com.)