Not Soon Enough
by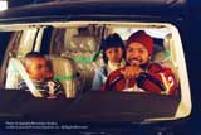 The question making up the title of this family comedy will be asked over and over by filmgoers squirming in their seats, wondering why the road trip goes off track so quickly by abandoning modestly raucous situations and physical gags in favor of sentimental filler about assuming responsibility.
It doesn't begin like a sappy public service announcement aimed at future dads. In a promising opening scene that echoes Home Alone, a spiffy suitor comes walking up the path of a house in Portland, Oregon. He's bearing flowers and eagerly anticipating his date with an attractive single mom named Suzanne (Nia Long). His excitement turns to pain on the front stoop when a series of booby-traps put him flat on his back, and then have him running for his fancy sports car. You feel sorry for the guy. But if the movie kept going in the same slapstick vein, it could have been an enjoyable ride.
The authors of the cautionary prank are Suzanne's two dastardly children. Eleven-year-old Lindsey and eight-year-old Kevin (Aleisha Allen and Philip Daniel Bolden) are determined to sabotage their divorced momís night out because it might lead to a serious relationship or even marriage. They hope she'll get back together with their father.
Their next adversary -- though the confrontational nature of the relationship isn't sustained -- is kid-phobic bachelor Nick, the owner of a sports memorabilia shop played by former gangsta rapper Ice Cube. This "player's" priority is his latest flashy purchase, an SUV with all the trimmings. Its most noteworthy accessory is a bobble-head doll of legendary baseball pitcher Satchel Paige perched on the dashboard dispensing commentary and advice in the voice of "Saturday Night Live" alum Tracy Morgan.
While obsessing over his new wheels, Nick's eye catches Suzanne and he begins courting her -- unsuccessfully. As his buddy Marty (a wasted Jay Mohr) puts it, Nick gets caught in the "friend zone." She senses his kid allergy and doesn't think he's mature enough to handle a relationship with a single parent. "If the kids hate you, the Momma won't date you," Marty warns.
Sure enough, she wants to keep things platonic. Nick decides to curry favor by volunteering to escort the brats on a flight to Vancouver, where Suzanne is working. They never board the plane and a train leaves without them, so they end up on the highway in his pristine, sure-to-be-trashed Lincoln Navigator. It's not long -- despite feeling like an eternity -- before his ride goes up in flames and all parties are converted. The kids learn their daddy is a cad, Nick learns the joys of being a substitute parent, and Suzanne realizes the upside of a boyfriend with "blingage."
There are many low points -- scowling matches and bathroom jokes -- with Nick getting attacked by a deer being the surest sign all comic energy has been spent. The youngsters start out so obnoxious, you root for Nick to give them a taste of their own medicine. An intergenerational war might have been fun. Yet deep down he's too nice for such a battle. Besides, the children lose their bite and simply become annoying.
Over the last few years, Ice Cube has gotten considerably less stiff as an actor. His faux rapper's rage has given way to a mainstream persona like the sensitive teddy bear in last year's sequel Barbershop 2: Back in Business. That softy certainly belongs in the anodyne Are We There Yet? -- a film which tries to have it both ways by deploying crude humor that might appeal to teens while affirming fatherhood and familial duty (even of the blended variety) to mollify defenders of values entertainment. In doing so, it gets stuck in the movie equivalent of the friend zone.
(Released by Columbia Pictures and rated "PG" for language and rude humor.)