Laugh So You Won't Cry
by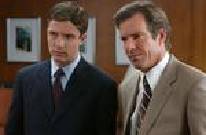 Sometimes it's best to laugh at painful things you can't control. In Good Company gives viewers an opportunity to do just that, especially where certain contemporary big business practices are concerned. Adding to the fun are top-notch comic performances by Dennis Quaid as an over-50 sales executive and Topher Grace as the much younger man who takes over Quaid's job. And yet, underneath all the humorous workplace incidents involving these two fictional characters lurks a feeling of sadness about real people who have faced -- or are dealing with -- similar job-related situations.
If you're not personally familiar with such terms as "downsizing," "the bottom line," and "corporate takeover," In Good Company will probably be funnier to you than to those who have fallen victim to these current trends. But if you've ever been replaced because of your age, or had to train someone younger than you who's taking over your job, or been fired in order to increase corporate profits, enjoying this movie will surely leave you with a bitter-sweet aftertaste.
Although In Good Company belongs to Quaid (The Rookie), his co-star gives him serious competition. Grace (Win a Date with Tad Hamilton!) manages to project a certain charm even when he's doing the corporate dirty work, and he endows his character with a sympathetic vulnerability that's hard to resist. But veteran actor Quaid provides the movie's juiciest treat as a husband and father who loves his family as well as his work -- and, obviously, even more. His befuddled look when told Grace is his new boss or when wondering who in his own household could be taking a pregnancy test is priceless. And his outrageous response to a surprise birthday party held in his honor simply brings down the house.
Scarlett Johansson (Girl with a Pearl Earring) and Marg Helgenberger (TV's CSI) offer fine support as Quaid's oldest daughter and wife, respectively. Unfortunately, Helgenberger gets only limited screen time, and Johansson's character engages in some inconsistent behavior which troubled me a bit. It's only Johansson's impressive acting skill that stops me from expressing a more negative reaction. I will point out, however, that the romance between Johansson and Grace detracts from the more interesting part of the film involving the characters played by Grace and Quaid.
Writer/director Paul Weitz (About a Boy) definitely has a knack for presenting male characters in a humanistic, amusing way. Despite a couple of minor flaws, his In Good Company emerges as an entertaining exploration of the personal/ethical problems facing men in today's corporate culture.
(Released by Universal Pictures and rated "PG-13" for some sexual content and drug references.)