In San Francisco, High on a Hill
by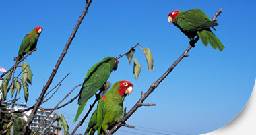 This movie is not for the birds. But it is about them. And, as well, about life and death, and community, loyalty and love. Walking a fine line this side of the sticky sweet, it is a gentle, and unusual, non-fiction. Its subject is a gentle and unusual man who drifts to his own genius and, in an unlikely way, finds his path and, in the surprise final moment, his destiny.
Shot on location without digital effects, not on video but 16 mm film enlarged to somewhat grainy 35 for release, veteran award-winning producer/director/camerawoman/editor/interviewer Judy Irving's The Wild Parrots of Telegraph Hill will strike some as merely cute in a lower key. Others, however, and probably a minority, will find this throwback to 'sixties spirituality an effectively simple statement, distinct from "the environmental movies I'd been making," of Zen Master Suzuki-roshi's metaphor of the individual living droplets' returning to cosmic oceans.
Now running to a paunch, bespectacled, jeaned and ponytailed -- vacuuming, he reveals that it will remain unshorn until he has a girlfriend -- Mark Bittner left behind Washington State and writing ambitions and, after travel overseas, gravitated to San Francisco with his guitar. The music didn't work out, either, and a series of menial jobs interfered with "freedom to move ahead in a spiritual way, Buddhist 'right behavior,'" so he stopped, living on the streets catch-as-catch-can for fifteen years and in any case has paid no rent for a quarter-century.
These facts come out later, here and there in no particular order. When Irving dubiously approached him about a short film to be done on stock left over from another project, he was an accepted squatter in an overgrown Greenwich Steps cottage on Telegraph Hill's eastern steeps. He struck her as an inarticulate hermit, and, anyway, "how far could you go with one guy feeding some parrots?" But the filmmaker was drawn in, and the ad-hoc casualness with which story and varied cast develop, belies the following four-and-a-half years spent in production.
After opening-credit pans of colorful raucous bird flocks and foggy Bay Area land- and seascapes -- which will recur, particularly symbolic Alcatraz -- the "sort of St. Francis of Telegraph Hill, huh?" looks for Fannie, pampers a host of wild cherry-headed conures (red-masked parakeets) and patiently explains to amused but increasingly impressed tourists.
Switch to his place, where open cages house only the damaged birds that he takes in, apart from a banded cantankerous Mingus for whom punishment is being left outside. Charming, almost purposely amateurish close-ups of these parrots, or of others on the porch, the Hill or in parks, are accompanied by comments from other people, professional curators as well as plain amateur fans, but Bittner's reassuring voice is the glue.
Untrained, he stumbled into the whole thing but, Robert Stroud-like, through observation, kindness and questions has become an untitled expert. Discussing his friends and charges named Gibson, Flap, Fannie and Tupelo (both dead), blue-crowned Connor and Buckie, Picasso and Sophie, Pushkin, mitred conure Olive and Scrapper and Scrapperella, he opens up, revealing his humanity, a wealth of shrewd reasoning, and an awareness of the similarities between the animal kingdom and higher-animal man. Not at all the eccentric he once feared being taken for, he becomes a naturalist-philosopher of the need for community and affection.
With Beat figure Whitman, he realizes that any creature is "equally perfect journey-work of the stars," that death is "different from what any one supposed" and part of the plan, and that loss can also be beginning. Number 243 needs extensive structural renovation, will in the future be rental property -- "567-4815/for rent" -- and, cured of humankind's "anthropocentrism," the man is ready to move on, in sorrow and in greater joy.
(Released by Shadow Distribution/A Pelican Media Production and rated "G" as suitable for all audiences. Photo credit: Mark Bittner.)