Go Together Like a Horse and Carriage
by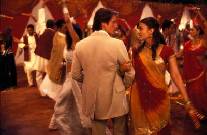 Dracula and Little Women now Great White Way musicals, a next logical illogical step had to be Jane Austen as song-and-dance celluloid. After all, it has been sixty-four years since, with a superb cast and a screenplay by Aldous Huxley from Helen Jerome's 1935 stage adaptation, a rather good Pride and Prejudice appeared, minus the observant miniaturist authoress' arch social satire. Now, with no royalties due for this public domain work and backed by Bend It Like Beckham's thirty-six-million-dollar gross, former documentarian Anglo-Indian Gurinder Chadha has directed, co-written and –produced Bride and Prejudice, "Inspired by Jane Austen."
The real Jane's acid pen would've had a field day with this Miramax "High-Profile Release" scheduled to open the first-ever non-profit South Asian International Film Festival. The gala at New York's throwback-majestic 1,200-seat Ziegfeld Theatre was Hollywood/Cannes, diplomat- and celebrity-studded, media- and paparazzi-recorded, dressed to the nines, dancers and a VIP after-party, with, logically, a heavy Indian representation. (The five-day SAIFF inaugural includes more parties, panels and thirty-seven other short, documentary and fiction films from Bangladesh, Nepal, Pakistan and Sri Lanka.) Remarking in her southwest London accent on the delayed starting time -- "typical Indian function" -- Chadha spoke of celebrating the "sort of United Nations of our Indian diaspora," exemplified personally in her British homeland and American-Japanese spouse. In introducing Bollywood to the globe, her aim is to appeal to "the mainstream and to diasporic Asians. . . . So relax, go on a journey!"
Westernized for foreign palates, her film is best approached as a type of classic stage and cinema musical comedy. Reaction to this sort of thing will be in direct proportion to the viewer's fondness for such films in general. For example, on a re-viewing of American musicals adapted from shows, my own reaction is that they often age badly and are better left to memory alone. What carries this particular "cross-cultural . . . reinvented in a new globally connected world" film are its pure energetic enthusiasm and color scheme (less important are the director's characteristically admirable end-credit snips). More winning than anticipated, more watchable than such other recent related works asBollywood/Hollywood or the non-musical Touch of Pink, Bride and Prejudice nevertheless suffers from the same vapid acting and trite characters as they and, as is true of many comedies, an ending blatantly predictable.
Twice posed on tractors to show the provinciality of their Amritsar, India, home, the four well-off Bakshi sisters and their perceptive father (Anupam Kher) resignedly bear with Mother's (Nadira Babbar) obsession to marry them off quickly and well, love coming only afterwards (along with grandchildren). Poor Mrs. B. does not realize that in romantic comedy no one is to be left single and that, unlike adventuress heroine Becky's elephant-borne monogram in Vanity Fair, the end pachyderm here will read "Just Married."
On business and pleasure, wealthy Indian Baraj Bingley (Naveen Andrews) and his sister (Indira Varma) arrive from the United States, bringing in tow best friend William Darcy (Martin Henderson), an even richer hotel heir under the thumb of his mother (Marsha Mason) and displeased with the "inconveniences" and "backwardness" of the subcontinent.
Kher and Nitin Chandra Ganatra are the only actors who stand out, the latter quite funny as kind but foolishly mannered Mr. Kholi, Americanized and successful but back seeking a bride to grace his new California condo. Not a spark flies, for no screen chemistry exits between blue-eyed Darcy and sensible, smart, blue-eyed daughter Lalita Bakshi (Aishwarya Rai), though their eventual Made-in-Heaven union is foreseeable. Kohli is a minor complication, easily foisted off on another, willing bride. More difficult pitfalls lie in Darcy's mother's racism and sister's (Alexis Bledel) naïveté, along with his own snobbery and stiff reticence, increased by the appearance of a mortal enemy, scoundrelly British opportunist Johnny Wickham (Daniel Gillies), and by the man-hungry shenanigans of the youngest Bakshi, Lucky (Peeya Rai Chowdhary).
With percussion-heavy, somewhat pop-oriented song and dance at the drop of a turban -- no more often, actually, or sillier than in many Western musicals -- such obstacles gradually fade, love makes its way as the bad are punished by finding no mate, the good rewarded with true marriage, and Mrs. B. with presumed grandchildren. Strictly for fun, not reforming irony.
But it is pleasant to contradict cynic Machiavelli and dream for the moment that riches and virtue do, indeed, flower together, in life as well as in screen comedy, and that, as Jane Austen wrote in Mansfield Park, "the best recipe for happiness" includes wealth as a natural additional grace to love and marriage. "I write about love and money," she elsewhere noted, "what else is there?"
(Released by Miramax and rated "PG-13" for some sexual references. Opened in the UK on October 8, 2004.)