As Long As He's Singin'
by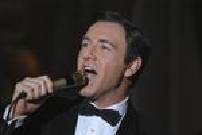 Is the exuberant singing/dancing lead actor in Beyond the Sea the same man who brought sinister Mel Profitt to life on TVís Wise Guy series so many years ago? Hard to believe, but true. Yes, Kevin Spacey has come a long way. Never mind about those two Oscar wins in between. Fans of movie musicals like me are more impressed by his way with a song as he disappears into the role of music legend Bobby Darin. And we thank the director -- thatís also Spacey -- for including so many wonderful musical numbers from beginning to end -- just like in the good old days.
My favorite sequence in Beyond the Sea shows Darin courting Sandra Dee (Kate Bosworth from Win a Date with Tad Hamilton) to the tune of the title song. Itís a lively part of the movie with Spacey doing a terrific job singing and dancing in a variety of settings. Fantasy, of course -- but all the elements, including Eduardo Serraís (Girl with a Pearl Earring) lustrous cinematography and Andrew Lawís (Down with Love) colorful production design, come together beautifully to make it immensely enjoyable. Watching this number not only convinced me how much Spacey admires Bobby Darin but also helped me understand why he was determined to make this movie as a tribute to Darinís musical contributions.
In a series of creative flashbacks featuring the talented William Ullrich as young Darin, this entertaining film (written by Lewis Colick of Domestic Disturbance), relates why music became Darinís salvation. Because of a damaged heart, a doctor predicted he would not live past 15 years of age. Darinís mother (Brenda Blethyn -- in an especially charming performance) gives the boy a reason to live by teaching him vaudeville songs and routines. She instills in him the ambition to be a great entertainer. Lyrics from one of Darinís own songs seem to express it all:
ďAs long as Iím singiní the worldís all right.
And everythingís swinginí
Long as Iím singiní my song.
Makiní music is much more than a pleasure
Cause me and music go together
Like notes in a measure.Ē
Although Darin died after open heart surgery at age 37, he accomplished so much in the world of music, and Beyond the Sea dramatizes these achievements without neglecting significant aspects of his private life. The manís drive to be someone special, his perfectionism, his turbulent marriage to Sandra Dee, his strong love for his mother and, finally, for his sister (Caroline Aaron) -- who reveals a big secret toward the end of the movie -- all play an important role in this superb musical biopic.
Still, itís Spaceyís singing and dancing that captivated me the most here. Wouldnít it be great if Beyond the Sea turns out to be the first of many movie musicals starring this versatile actor? Iím not counting on it, but you canít blame a gal for dreaming.
(Released by Lions Gate Films and rated ďPG-13Ē for some strong language and a scene of sensuality. Opened in the UK on November 26, 2004.)