Lazy Island, Lazy Movie
by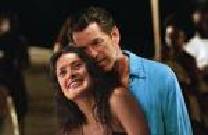 Director Brett Ratner usually has been blessed with great casts to direct or at least enough talent on hand to make sure the actors drive the movie. However, although After the Sunset, his latest film, boasts an appealing cast consisting mainly of Pierce Brosnan, Salma Hayek, and Woody Harrelson, the resulting movie exhibits such lack of energy that even these stars can't save it.
Brosnan and Hayek try mostly with their looks, though -- or should I say Ratner tries to sell them on their looks? Not that the audience doesn't appreciate it, I'm sure. I can't speak for the people who swoon over Brosnan, but I certainly understand how beguiling Hayek's beauty can be. And here, in this tale set on a tropical island, Ratner has plenty of opportunities to shoot her in various degrees of dress (or lack of dress, actually).
It's a nice try, really, but the movie needs more than good looks to get by. After the Sunset's production seems to have been afflicted with the locale's alluring, relaxed laziness. It has photography aplenty for breezy beaches and lovely hotel rooms and residences. Meanwhile, it serves up a most inconsequential plot and does almost nothing to create a consistent tone. It's as if it doesn't even try. As if it would rather just soak up the sun.
The cliche-riddled story is about retired jewel thieves living on the island when a new temptation presents itself in the form of a diamond onboard a docked cruise ship. Brosnan's character portrays the main jewel thief, and his nemesis is the FBI agent played by Harrelson, whose arrival on the island means -- what? Tension, suspense, and/or intrigue, right? Wrong. As it turns out, his presence creates comedy instead. There's a certain charm to the way Harrelson and Brosnan's characters become unexpected buds, but at this point one wonders where the conflict went. The movie started off romantic in the way a jewel-heist movie is expected to be, but then it turns silly, and all the drama is deflated in a pool of comedy that only works about half the time.
Having abandoned any semblance of focus, the movie proceeds to end in the most hackneyed, predictable way possible. By the time Brosnan delivers his final speech, you won't believe the words are coming out of his mouth -- you'd think he would have protested having to say such corny lines. But then, maybe he didn't care because nobody else involved with After the Sunset seems to have cared. They got to make a movie on a beautiful island; the film itself might just be an afterthought. It feels like one, anyway.
(Released by New Line Cinema and rated "PG-13" for sexuality, violence and language.)
Review also posted on www.windowtothemovies.com.