On-Target Oscar Buzz
by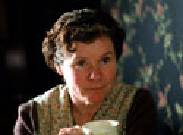 When Oscar buzz starts about a small film starring an actress relatively unknown in the USA, it spreads fast. The talk about Imelda Staunton in Vera Drake is absolutely true. She's more than terrific.
Staunton plays Vera Drake, a cleaning woman in 1950s London who has little but asks for even less. Her grown son Sid (Daniel Mays) is an apprentice tailor; her daughter Ethel (Alex Kelly) works in a light-bulb factory and Vera's husband Stan (Phil Davis) works for his brother Frank (Adrian Scarborough) in a garage. They may live in a modest flat and have to watch their pennies, but the Drakes are basically a happy clan.
The only thing that would make them happier is if Ethel could find a mate, so when Reg (Eddie Marsan) starts courting Ethel and finally proposes, the Drakes couldn't be happier. They invite Frank and his wife Joyce (Heather Craney) to dinner to celebrate.
Frank and Joyce live on the upper side of town where Joyce indulges in every luxury she can talk Frank into buying her. She refuses to go to the Drakes, and she and Frank have an argument. He feels somewhat guilty because although he and his brother have worked side by side to make his garage successful, Frank has reaped the rewards, while Sid receives only a small paycheck.
Frank and a less than amicable Joyce show up for dinner, which is interrupted when the police come to question Vera. In the privacy of her bedroom, an inconsolable Vera tearfully answers questions and then produces an abortion kit that she has used for many years to help young women in trouble.
Writer/director Mike Leigh (Topsy Turvy, Secrets & Lies), a British filmmaker with a long history, uses his unique talent to fill the screen with poignant moments and occasional warmhearted humor. He does this well in Vera Drake.
Arrested and bound over for trial, Vera knows her life will never be the same again. Here is where Staunton's talent shines. She's quite believable as a happy-go-luckily cleaning lady, a contented wife and proud mother. Vera never takes money from the young women who need her help and truly believes she's performing a service. But when her demeanor changes, and she's so distraught by the shame she's brought to her unsuspecting family, Staunton immerses the audience in the turmoil of her character's plight. Part of the Staunton's talent comes from her career as one the United Kingdom's best-known stage -- where she won three Oliviers -- and television actresses. She's also no stranger to film, having appeared in Shakespeare in Love, Sense and Sensibility and Much Ado about Nothing. While most of the other cast members are unknown to American audiences, they all fill their roles well.
In its heartfelt story, Vera Drake never questions whether abortion is right or wrong. Instead, it focuses on how one's family reacts or should react when someone dear surprises then with a revelation that changes all of their lives.
Vera faces this plight right up to the time she appears before the judge (Jim Broadbent) for sentencing. The involving film moves through a myriad of emotions -- with tension building until Vera's fate is decided.
(Released by Fine Line Pictures and rated "R" for depiction of strong thematic material.)