Puppets Gone Wild
by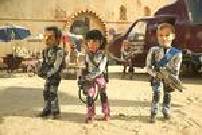 Parents who take their children to see Team America: World Police will have a lot of explaining to do. This satirical comedy from Trey Parker and Matt Stone of South Park fame features an all-puppet (or marionette) cast, but it also contains some of the most crude and offensive scenes of the year. Under the guise of poking fun at mind-numbing action movies as well as the War on Terror and movie stars who speak out against that war, Parker and Trey have outdone themselves by reaching new lows of bigotry and mean-spirited nonsense.
On the other hand, viewers who think vomiting is funny, enjoy hearing language that would make George Carlin blush, and get turned on by watching puppets have sex should not miss this one. Unfortunately, nothing in Team America seemed very amusing to me. However, two of the songs, "We Need a Montage" and "Lonely," did make me smile. The former lampoons those montages used in so many films ("Even Rocky had a montage") to show time passing, and the latter is sung by North Korea's Kim Jong I1, the film's villain, to explain how misunderstood he is. The way he mispronounces "Lonely" ("Wonewy") is supposed to get big laughs, which it did at the screening I attended.
The plot of Team America: World Police doesn't take many brain cells to follow. It's about a gung-ho international police force trying to rid the world of terrorists but doing more damage by their actions than the terrorists themselves. Gary Johnston, an actor-puppet on Broadway, has been chosen to be the main hero, evidently because his wonderful acting talent makes him the perfect spy. But not all of Team America's members are convinced of Gary's ability to out-act Alec Baldwin, who along with cohorts Sean Penn, Janeane Garofalo, Samuel L. Jackson, George Clooney, Helen Hunt, Martin Sheen, Matt Damon, Tim Robbins and Susan Sarandon, have joined forces with Kim Jong I1. The showdown between Team America's champion and Alec Baldwin takes place before an audience in North Korea, supposedly called together for a peace conference.
"A lot of us have heard the phrase: 'Who do you think you are, the world police?' Well, we decided to make that a totally real thing," explains Stone. "And we don't take any sides or try to make any big statements. It's just like what we do on South Park -- we just make fun of everything."
Everything? Not quite. Mostly of gays, movie actors, military zealots and Ben Affleck's performance in Pearl Harbor, a Jerry Bruckheimer film. I think "everything" related to this particular plot would also have to include a send-up of politicians, both liberals and conservatives. On second thought, I should count my blessings. More scenes would mean a longer movie, and despite the originality of the idea, I grew tired of looking at all those puppets after the first 15 minutes, which is how I usually feel when watching any wooden actors.
(Released by Paramount Pictures and rated "R" for graphic, crude and sexual humor, violent images and strong language; all involving puppets.)