Award-Winning Filmmaker Linda Palmer
by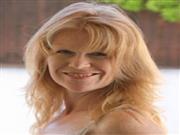 On May 17, Movie Addict Headquarters welcomes award-winning filmmaker Linda Palmer for a discussion of her independent movies Last Call at Murray's and Our Father. Linda will also talk about Carbon Dating, her hilarious Web series that is being considered for an Emmy nomination. Last Call at Murray's is receiving rave reviews on the festival circuit, and Our Father -- a unique short film -- has earned numerous awards.
Our Father stars the great Michael Gross from Family Ties and packs an emotional wallop. Plus, it takes place entirely in a bathroom. (Yes, you read that right!)
Last Call at Murray's also features Michael Gross. He plays a longtime bar owner who has decided to retire. His plans for a quiet closing night go awry when the bar becomes a place for people to stay during a severe unexpected storm.
Carbon Dating includes 9 highly amusing episodes about two baby boomer women awkwardly aging in a youth oriented society. What could possibly go wrong?
Linda is a writer/director/producer and founder of Runaway Productions, a commercial and feature film production company in Los Angeles. She studied journalism, television and radio production at Long Beach City College and completed the UCLA Extension Program in screenwriting and directing. Her background includes experience at Stiletto, a music management company, Aaron Spelling Productions, and America's Funniest People.
"Award-Winning Filmmaker Linda Palmer" airs on BlogTalkRadio at 4 p.m. Eastern Time (1 p.m. Pacific Time) on Tuesday, May 17,2016. During the live show, listeners are invited to call in and to participate in a chat. An archived segment will also be available.
CALL-IN NUMBER: 646-478-5668
HOST: Betty Jo Tucker
LINK: Click here.