Omar Sharif Returns to Acting
by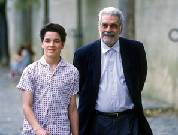 Omar Sharif, the 72-year-old actor who still draws acclaim for his leads in Lawrence of Arabia and Dr. Zhivago, sits at the interview table as bubbly as if this were his first interview. His dark eyes gleam, and his broad smile is warm and genuine. He seems more like someone talking about family matters with a close friend than an actor facing a journalist ready to ask about his latest film, Monsieur Ibrahim.
Question: How did this movie come to you?
Sharif: The director sent it to me. I hadn't played for maybe four or five years because I decided that I was making too many bad films for the last thirty years, which is a long time to make bad films. Some people say: 'I've made bad films for the last two-three years,' but thirty years is a long time. It got to the point where my grandchildren were making fun of my films. That's bad! I would stop unless something came along that made me enthusiastic so that I regained my love for my work. And then this script came along. I was going to Egypt on a cruise with my family; I read it on the deck of the ship; and I found it wonderful, beautifully written. I loved it.
Question: I think you have a genuine affection for this boy (Pierre Boulanger) in the film; did you have it in real life as well?
Sharif: All my life I've had a great affection for children. When I married my wife she had a daughter. And the daughter had a daughter after that. I brought them up, my son and my grandchildren. I love to interfere in everything. I love to play with children. I remember when my son was about five or six we used to play cowboys and Indians in Cairo, in my home. And my wife had some very precious Chinese vases, Ming or something extravagantly expensive. I used to play the Indian because he had to be the cowboy. So I had all of these bows and arrows, which had this rubber [tip], and I used to shoot and break the vases! And when my wife came home I'd say, "It's him!" And I never told her that it was me!
So when we cast this boy, he was a very ambitious little boy. I said, "Come to my hotel, and we'll bring an acting coach. I will give improvisations," not on this film, nothing to do with these characters because I don't want to be in the director's way. And while we were doing the film, I remember the director would give Pierre directions and he'd say, "I can't do this because I don't feel it; that's not my character. I wouldn't do this." He (François Dupeyron) used to go crazy! Within two or three weeks he (Pierre) was telling me how to act.
Question: Would you like people to identify you as Monsieur Ibrahim?
Sharif: Yes. I am a little bit Monsieur Ibrahim. My view of life is similar. When I read the part I said, "That's who I am, really." Or how I think, at any rate. The wise things that he says in the film are not really very wise: they are things us Orientals have, oral traditions. From fathers and grandfathers…they tell you things that you remember. It was like the old man was waiting to find another boy to play with. Because he's a boy at heart, this old man.
Question: What do you think of Mr. Lean as a filmmaker and how did the experience of making Doctor Zhivago and Lawrence of Arabia challenge you as an actor?
Sharif: When David Lean chose me to play in Lawrence of Arabia I was an actor in Egypt with a rudimentary knowledge. I made twenty-one films but very melodramatic films. Everybody cried. After the performance and people left the theatre, they measure the film's success by how much tears there were. If the women cried, that would mean it's a good film.
Question: Did they cry because of your performance?
Sharif: We used to copy the melodramas of all the other cinemas in the world. There was a period of the Italian melodrama and we did Anna Karenina, of course, my wife and me. So Lawrence of Arabia was a teaching experience. Apart from that fact, we stayed twenty months in the desert… with no girls! I had a wife and a child. They weren't allowed to come and visit me. It was forbidden for women to come on the set because we were living in tents, and they were afraid if some people brought their girlfriends or wives, some funny stuff would happen with some other guy and disrupt the whole unit. It was like being in the army, but I became very close to Peter O'Toole and to the other actors. I was like a sponge. I used to go and see Alec Guinness and Peter O'Toole perform even when I was not on. And David Lean adopted me like a son, and gave me a lot of good advice about film acting. Things that are technical. He said, "With film acting you must be careful with…" this, that and the other. As Orientals we tend to move a lot, talk with our hands and our heads. He said, "No. When you're in a close shot you have to be very still or it changes the meaning of what I'm telling you."
I think he (Lean) didn't love actors. When they were actually on the set and shooting, he loved them because they the tools of his work. But he hated to dine with actors because actors are so boring they're always talking about themselves. It's true. When I have dinner with other actors, it's a race to see who has the better story.
Question: What was your motivation for taking this on now?
Sharif: If you make five flops in five years, you are finished. A person like me who has an accent is difficult to cast in normal films, because I'm a foreigner in every film industry. At the beginning when I was a box office star, it didn't matter. I played a German; can you believe an Egyptian playing a German? Hitler turns in his grave at this.
Question: In Monsieur Ibrahim, why are there references to the new wave of French films?
Sharif: The director is an admirer of these films, and he put in music of the 60s that he loved as a kid. The director is an interesting person, and was very good for me. Being a lazy person by nature, I need to be challenged. If you respect me too much when I'm working, it's bad for me. And I never have the courage to say that, because I never want to bother the electrician or those who want to go home. So I like the director to say that was lousy, and then I have to dig deeper into myself to get more real and more convincing for the director. He would say, "Cut. That was lousy." He almost spit it out of his mouth, he didn't even think about it. Then you'd see him blush, like what did I just say to Omar, and I'd say, no you're right. It's not like William Wyler, who would just say, that's lousy, do it again. So you'd keep doing it until he said print and he never told you how or why it's lousy.
There is a famous story of Laurence Olivier doing Withering Heights. Olivier had done this scene again and again and after 30 takes, he went to Wyler and said, "I've played this scene 30 times in 30 different ways, can you please tell me how you want this scene played," and Wyler said, "Better."
Question: What about the religious overtone of Monsieur Ibrahim?
Sharif: If this film was not made during this time when there is strife in the Middle east, it would be irrelevant that he was Jewish, the boy does not know what it means to be Jewish, his mother left him when he was a kid, and his father is a non-believer and does not talk to him so the boy does not know what it means to be Jewish.
Question: Do you still play bridge?
Sharif: I've stopped all together. I decided I didn't want to be a slave to any passion any more except for my work. I had too many passions, bridge, horses, gambling. I want to live a different kind of life, be with my family more because I didn't give them enough time. I was traveling and living in hotels, and if I get a good movie, I want more time to concentrate on it and be more focused. I decided if I could erase the past and the future from my mind I would be happy. I want to live every moment intensely and totally. This moment is the only moment for me. So if I go, I will probably live to be 100, but if I go I will not have wasted the last moments of my life.