Award-Winning Filmmaker Rachel Mason
by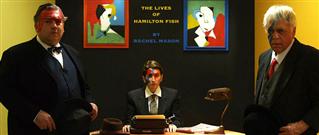 On November 11, Rachel Mason visits Movie Addict Headquarters to discuss The Lives of Hamilton Fish, her award-winning cinema rock opera inspired by a true story. Rachel is also a sculptor, songwriter, singer and performer. She has written three operas, recorded ten full-length albums, and performed at numerous art museums and other venues, including the Detroit Museum of Contemporary Art and School of the Arts in Chicago.
Winner of the Best Picture Award at the 2014 New England Underground Film Festival, The Lives of Hamilton Fish deals with two men named Hamilton Fish who died one day apart in 1936. One of them was a serial killer, the other a descendant of one of the most prominent families in New York state. A newspaper editor becomes obsessed with this coincidence after publishing their obituaries on his front page. Told entirely through songs in the editor's voice, this story mixes the surreal with historical facts.
Film critic Phil Hall calls the The Lives of Hamilton Fish the best movie he's seen during 2014. "I have thought about this film every day since I screened it," he says. "The film is so innovative and complex that it forces me to consider so much about the lives of the two men and the whole notion of self-destructive and obsessive behavior." In his Film Threat review, Hall praises the film for being "so boldly innovative in its technique and so profound in its concept that it is wholly appropriate to yell 'Halleluyah!' at its arrival."

"Award-Winning Filmmaker Rachel Mason" airs on BlogTalkRadio at 4 p.m. Eastern Time (1 p.m. Pacific Time) on Tuesday, November 11, 2014. During the live show, listeners are invited to call in and to participate in a chat. An archived segment will also be available.
CALL-IN NUMBER: 646-478-5668
HOST: Betty Jo Tucker
PRODUCER: Nikki Starr
LINK: Click here.