Actress Joan Benedict Steiger on Tap
by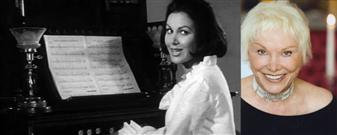 On April 22, award-winning actress Joan Benedict Steiger returns to Movie Addict HQ to talk about her longstanding passion for tap dancing plus her diverse experience in films, TV and live theater. Winner of the Eternity Award from the L. A. Women's Theater Festival, Joan appeared in A Month of Sundays and The Flying Dutchman opposite her late husband, Rod Steiger. Her other movies include such films as The Prize Fighter, The Theory of Everything and Dead Border. Joan's interest in tap started at the age of seven, and she still takes three lessons a week!
Among Joan's stage credits are roles in productions like Promises, Promises, The Beauty Queen of Leenane, The Octette Bridge Club, The Traveling Lady, The Mind with the Dirty Man, Richard III, Dr. Faustus, and her one-woman show Leona, in which she received rave reviews for her portrayal of hotelier Leona Helmsley.
Joan's TV career began when she was a member of the original ensemble of The Steve Allen Show, followed by roles on several daytime dramas and series guest appearances. Her other television credits include such diverse shows as Days of Our Lives, General Hospital, Candid Camera, and Dollhouse.
Clearly, Joan has amassed a remarkable body of work on stage, screen and television in roles covering the classical and contemporary, the drama and the musical.
Listen to Joan Benedict Steiger on Tuesday, April 22, at 4 p.m. Eastern Time (1 p.m. Pacific Time) on BlogTalkRadio. During the live show, listeners are invited to call in and to participate in a chat. An archived segment will also be available.
CALL-IN NUMBER: 646-478-5668
HOST: Betty Jo Tucker
CO-HOST: A. J. Hakari
PRODUCER: Nikki Starr
LINK: Click here.