All-Time Greatest Bad Movies
by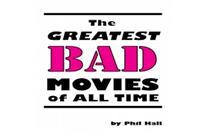 Author/actor/film critic Phil Hall visits Movie Addict Headquarters on July 23rd to talk about The Greatest Bad Movies of All Time, his new book scheduled for release on August 12. Hall selected 100 motion pictures to include in this book. "Each one stands the test of time and is wonderfully warped in its own twisted way," he explains. Hall has compiled a provocative list of films -- and written insightful, entertaining descriptions of why each motion picture made the cut. Because of Hall's impeccable research on this project, his impressive knowledge of the cinema, and his proven skill as a writer, The Greatest Bad Movies of All Time is a treasure for movie lovers everywhere.
Hall is also the author the following books: The Encyclopedia of Underground Movies; Independent Film Distribution; The History of Independent Cinema; and What If They Lived? Hollywood's Last Stars and the Futures They Never Had. His movie acting experience includes London Betty, Bikini Bloodbath Car Wash, Abduction, My Mouth Lies Screaming, The Land of College Prophets and Uncorked --a short movie he wrote and stars in.
Outside of acting and writing film-related books, Hall serves as a contributing editor for Film Threat, has been a member of the Governing Committee of the Online Film Critics Society, and recently created the Business Superstar website.
How did Hall decide which films are the 100 greatest bad movies of all time? Listen in to find out!
"All-Time Greatest Bad Movies" airs on BlogTalkRadio at 4 p.m. Eastern Time (1 p.m. Pacific Time) on Tuesday, July 23, 2013. During the live show, listeners are invited to call in and to participate in a chat. An archived segment will also be available.
CALL-IN NUMBER: 646-478-5668
HOST: Betty Jo Tucker
CO-HOST: A.J. Hakari
PRODUCER: Nikki Starr
LINK TO LISTEN: Click here.
(For more information about The Greatest Bad Movies of All Time, go to www.bearmanormedia.com.)