A Tribute to Roger Ebert
by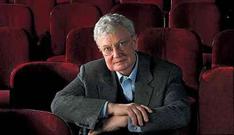 Film criticism attracts its fair share of naysayers as well as true believers. However, when one of the great voices of this art form passes away, we all feel the loss. The death of critic Roger Ebert on April 4 2013 signals the end of an era. We may never see his like again. Author of many books dedicated to the art of understanding movies, both good and mediocre, he opened up the possibilities for many others who would follow. A television show with various co-hosts over the years established his voice as one of authority and wit.
Rotten Tomatoes holds a list of his reviews at close to 7202. Because his writing stretches out over such a long period, it's wise to suggest he wrote many more than this number.
My last recollection of reading an Ebert review was where he covered Steven Soderbergh's Side Effects. In particular, he paid some nice attention to the music by Thomas Newman. His writing gave focus to the unspoken and made it clear to laymen.
In the excellent documentary For the Love of Movies, he recounts a personal tale in which a film-goer asked his advice about Cries and Whispers. Upon giving the person his thoughts, the latter replied, "O, I don't think that's something we'd like to see!" In finishing the story, Ebert takes the remark in his stride.
Critics review the arts to inform and reveal what's significant about their making. A few of us become celebrities. Others remain obscure to the general public. Ebert may always be one of the legends of the critical minority. His light was bright, illuminating themes and recognizing greatness in acting. For example, he championed Charlize Theron's chilling turn in Monster. When reading an article of his, one immediately gets the sense of a man taking his time to understand the film experience as ephemeral yet permanent at the same time.
In 1975, he achieved what only one or two critics have since: he won the Pulitzer Prize for his film writing. For those who doubt the power and intrigue of movie criticism, I suggest they look at Ebert's example. There they will find an individual eager to explore every genre; open to whatever mood or direction the film wished to take him and an appreciation for the finest qualities of the motion picture art.
We will all miss you, Roger.
Roger Ebert (1942-2013)