Indie Film Musical Stars
by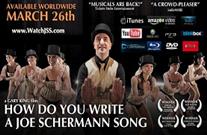 The movie musical is back! Rising stars Mark DiConzo and Debbie Williams drop by Movie Addict HQ on March 12th to discuss their key roles in How Do You Write a Joe Schermann Song, the award-winning independent film musical directed by Gary King and featuring Mark's spirited choreography. Empire Magazine calls this new movie musical "good old-fashioned entertainment that's full of catchy tunes and clever lyrics."
Both guests are multi-talented. Mark boasts impressive experience as an actor, singer, dancer and choreographer. His other films include New York Lately, American Gangster and Bad Luck Danelion. He's played such stage roles as Billy Flynn in Chicago, Rum Tum Tugger in Cats and Sky Masterson in Guys and Dolls. Debbie -- who plays Joe Schermann's muse -- is an exciting actress, dancer, songwriter, and singer whose voice has "the power of Celine Dion with the tone of Shania Twain and the sass of Alanis Morisette." She holds a BFA in Musical Theatre with a minor in Dance.
How Do You Write a Joe Schermann Song has garnered numerous awards on the film festival circuit, including the following:
AUDIENCE AWARD – Phoenix Film Festival
BEST PICTURE – Idyllwild Cinemafest
FILM OF THE FESTIVAL – Raindance Festival
BEST DIRECTOR – Flyway Film Festival
"Indie Film Musical Stars" airs on BlogTalkRadio at 4 p.m. Eastern Time (1 p.m. Pacific Time) on Tuesday, March 12, 2013. During the live show, listeners are invited to call in and to participate in a chat. An archived segment will also be available.
CALL-IN NUMBER: 646-478-5668
HOST: Betty Jo Tucker
PRODUCER: Nikki Starr
LINK TO LISTEN: Click here.