Award Celebration!
by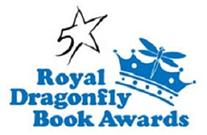 Linda F. Radke, president of Five Star Productions, helps Movie Addict HQ celebrate the Royal Dragonfly Book Awards of 2012 during the December 11th show. CONFESSIONS OF A MOVIE ADDICT earned First Place in the Memoir category this year, so an amusing "roast of the author" will be replayed for everyone's listening pleasure.
In addition to authoring her own books which earned prestigious accolades across the globe, Linda uses her publishing prowess to market and produce award-winning books for other authors. Named "Book Marketer of the Year" by Book Publishers of Southern California, she has won acclaim on TV's 60 Minutes and in magazines such as Kiplinger's, NEA Today, and many others.
Confessions of a Movie Addict is an amusing life-at-the-movies memoir about my longstanding love of the cinema. It was such fun to write, so to win an award for doing that is quite an honor -- and a BIG surprise! More surprises came during our 10th Anniversary celebration of the book's publication by Wheatmark (my publisher who marked the occasion by offering an ebook version on Amazon's Kindle store). What I thought would be a show where friends could praise my book ended up as a humorous roast with the following people taking part in the fun:
Warren Epstein, Arts & Culture Editor for the Colorado Springs Gazette
James Colt Harrison, Film Historian
Nancy Lombardo, Comedian and BTR Host
Diana Saenger, Entertainment Journalist
A.J. Hakari, Film Critic/Horror Expert
That spirited conversation will be revisited during this episode -- and I'll try to be a good sport about it. "Award Celebration!" airs live on BlogTalkRadio at 4 p.m. Eastern Time (1 p.m. Pacific Time) on Tuesday, December 11, 2012. During the live show, listeners are invited to call in and to participate in a chat. An archived segment will also be available.
CALL-IN NUMBER: 646-478-5668
HOST: Betty Jo Tucker
PRODUCER: Nikki Starr
LINK TO LISTEN: Click here.