Muse of the Movies
by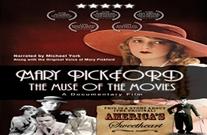 Award-winning filmmaker Nicholas Eliopoulos drops by Movie Addict HQ on June 19 to discuss Mary Pickford: The Muse of the Movies, his in-depth documentary about "America's Sweetheart," the legendary actress whose life parallels the birth of the cinema itself.
Eliopoulos boasts an impressive three-decade career as a film director, editor and producer. He's won an Emmy, two Golden Reel Awards and three Golden Scissors Awards. His movies include: Out of Africa, Nine to Five, Foul Play, European Vacation, The Runner Stumbles, and Run Tel Dat. Actor Michael York narrates Mary Pickford: The Muse of the Movies, which is being released on the same day as this live show.
"When I discovered that Mary Pickford was born in the same year that Edison invented the movie camera, I knew those two stories were intertwined," Eliopoulos explains. It may have taken "a long many year journey to complete this documentary," but Mary Pickford: The Muse of the Movies ends up being a riveting story of the birth of the cinema as well as Mary Pickford's life and career.
By watching this wonderful documentary, we learn intriguing facts about how Mary Pickford became the world's first true movie star, the first method actor, the first actor to ever have her name featured over a film's title on a cinema marquee, the first and only actor to command earnings of 50 per cent of a film's revenue, the owner of a film studio, the most famous woman of her time, a two-time Academy Award winner, and co-founder of the Academy of Motion Picture Arts and Sciences.
Movie fans and film historians alike should enjoy listening to Nicholas Eliopoulos talk about his experience as the director, editor and co-producer of Mary Pickford: The Muse of the Movies. This interview airs on BlogTalkRadio at 4 p.m. Eastern Time (1 p.m. Pacific Time) on Tuesday, June 19, 2012.
During the live show, listeners are invited to call in and to participate in a chat. An archived segment will also be available.
CALL-IN NUMBER: 646-478-5668
HOST: Betty Jo Tucker
PRODUCER: Nikki Starr
LINK TO LISTEN: Click here.