Actress Katharine Houghton
by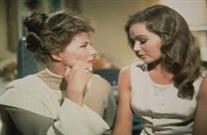 Actress Katharine Houghton, the niece of legendary film star Katharine Hepburn, talks about her famous aunt during a revealing Movie Addict HQ episode on May 22. During this taped interview, replayed in honor of Hepburn's 105th birthday celebration, Houghton shares her candid reactions about Hepburn's private life. And, because she portrayed Hepburn's daughter in Guess Who's Coming to Dinner, Houghton also talks about that poignant experience.
Among Houghton's other films are Kinsey, Ethan Frome, The Last Airbender, and Billy Bathgate. She is also a successful playwright, popular lecturer, and award-winning stage actress who made her Broadway debut in 1965 in Ruth Gordon's A Very Rich Woman and won an Obie Award in 1969 for her performance in Scent of Flowers. In addition, she has played roles in over 50 regional theater productions. Her latest stage role was Amanda in The Pretty Trap, a comedy version of The Glass Menagerie.
As a playwright, Houghton's credits include a one woman show about Louisa May Alcott plus Best Kept Secret, Buddha and Bookends, a musical.
In her interview about Katharine Hepburn, Houghton offers fascinating behind-the-scenes information about one of Hollywood's most respected actresses. Hepburn won four Best Actress Oscars (Morning Glory, The Lion in Winter, Guess Who's Coming to Dinner, On Golden Pond) and was nominated twelve times for that honor. She made over forty films -- and nine of them were with the love of her life, Spencer Tracy -- during an acting career that spanned six decades. In 1999, the American Film Institute ranked Hepburn as the top American screen legend of all time. Hepburn was born on May 12, 1907, and died on June 29, 2003, at the age of 96.
After the taped interview, Nancy Lombardo from BTR's Comedy Concepts, offers her impressions of memorable Katharine Hepburn movie quotes.
"Actress Katharine Houghton" airs on BlogTalkRadio at 4 p.m. Eastern Time (1 p.m. Pacific Time) on Tuesday, May 22, 2012. Listeners are invited to participate in a Chat, and an archived segment will also be available.
HOST: Betty Jo Tucker
CO-HOST: James Colt Harrison
PRODUCER: Nikki Starr
ASSISTANT PRODUCER: Danielle Dyer
LINK TO LISTEN: Click here on or after May 22, 2012.
(Photo: Katharine Houghton and Katharine Hepburn in Guess Who's Coming to Dinner?)