Alfred Hitchcock Revisited
by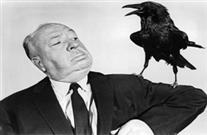 Movie Addict HQ pays tribute to Alfred Hitchcock, the iconic Master of Suspense, during a rerun episode scheduled for May 15. This popular show features film historian James Colt Harrison, entertainment journalist Diana Saenger, and the Movie Addict HQ gang in a spirited discussion about Hitchcock's greatest films and the reasons for his success. A live Chat will be available.
Hitchcock directed more than fifty feature films during a career that lasted six decades. Movie Maker Magazine called him "the most influential filmmaker of all time." And, according to Britain's Daily Telegraph, Hitchcock "did more than any other director to shape modern cinema." Because Hitchcock movies boast twist endings plus thrilling plots filled with violence, murder and crime, most viewers were -- and still are -- captivated while watching them. Add suspenseful psychological and visual elements as well as stylistic presentation, mistaken identity, characters wrongfully accused --and the wow factor definitely kicks in while viewing a Hitchcock film.
"Alfred Hitchcock Revisited" focuses on the following topics:
The secret to Hitchcock's success
Hitchcock's five greatest films
Actors/actresses who delivered best performances in Hitchcock's movies
Why Hitchcock is so revered as a filmmaker
Favorite Hitchcock anecdotes
What are YOUR favorite Hitchcock films? To refresh your memory, here's a list to choose from:
VERTIGO
NORTH BY NORTHWEST
DIAL M FOR MURDER
THE BIRDS
PSYCHO
TO CATCH A THIEF
REBECCA
THE MAN WHO KNEW TOO MUCH
ROPE
39 STEPS
SABOTEUR
SHADOW OF A DOUBT
STRANGERS ON A TRAIN
MARNIE
THE TROUBLE WITH HARRY
STAGE FRIGHT
FRENZY
I CONFESS
THE WRONG MAN
NOTORIOUS
REAR WINDOW
LIFEBOAT
UNDER CAPRICORN
THE LADY VANISHES
FOREIGN CORRESPONDENT
TORN CURTAIN
TOPAZ
Whew! And that list doesn't include all of Hitchcock's movies.
"Alfred Hitchcock Revisited" airs Tuesday, May 15, on BlogTalkRadio at 4 p.m. Eastern Time (1 p.m. Pacific Time). An archived segment will also be available.
HOST: Betty Jo Tucker
CO-HOST: Jazz Shaw
PRODUCER: Nikki Starr
LISTENING LINK: Click here on or aftter May 15, 2012.
BLOGATHON ALERT: The 2012 Film Preservation Blogathon, scheduled for May 13 through May 18, will help the National Film Preservation Foundation raise funds to stream The White Shadow, Alfred Hitchcock's first credited feature, on the NFPF site. Please go to www.ferdyonfilms.com and click on the Film Preservation Blogathon poster for more information.