Interview: Sean Durkin & Elizabeth Olsen
by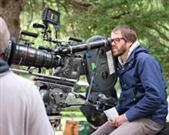 Sean Durkin, director/ writer of Martha Marcy May Marlene, and his lead actress Elizabeth Olsen, made a brief stop in San Diego on their whirlwind PR tour for the movie. Fortunately, they were more than eager to talk with me about their new film. Below are their answers to my questions during our interview session.
QUESTION: Sean, why were you fascinated with the cult world?
SEAN: Initially I just wanted to make a film about a cult in modern day -- and non-religious. And then I was drawn to women who were completely transformed by this experience before and after and who had their souls sucked out of them.
QUESTION: Elizabeth, what kind of research did you do to get into the mindset of Martha?
ELIZABETH: I didnít do any. I was cast a few weeks before we started shooting, but it wasnít our approach. I figured out ways I would relate to her, but I did have someone who shared stories he had learned about.
QUESTION: Were you at all influenced by the Charles Manson clan?
SEAN: Yes. When you start looking into cults thatís where you usually start, and then I looked at smaller groups that are around today.
ELIZABETH: Those images to and from court are not what we wanted to do. In almost every city weíve toured in someone comes up to tell us about their personal, sister, child, brother, or relativeís story and itís so existent, so if you do play it up from this past idea then itís no longer part of this present world.
QUESTION: Sean, what was it about Elizabeth that made you chose her for the role?
SEAN: In the first read she was just relaxed, intense and thoughtful, and I could see something in her face working on a different level. She was very vibrant, and I thought if that personality is trapped inside Martha it would give it (the movie) an energy and depth.
QUESTION: Elizabeth, do you intend to make this your profession?
ELIZABETH: Yes. I went for an audition when I was 10 years old, and my ballet teacher was telling me I canít do ballet because I was missing auditions, but I wanted to continue with ballet. I started doing acting conservatories when I was 16, and have gone to four different conservatories all over the world. Itís fun, and Iím a nerd about acting and its history. I love theatre and acting and thereís nothing else I want to be doing. When I was a little girl I dreamed of playing opposite Frank Sinatra, and I didnít realize he was an older man. Iím interested in creating a career for my entire life.
QUESTION: What was it like to work with John Hawkes and Sarah Paulson?
ELIZABETH: This is only my second film and sometimes Iím intimidated by the people Iím working with, but Seanís attitude and the ease of the people he works with I didnít feel that anxiety, I was just excited to learn from them. As actors, they are so generous. They care so much about the larger picture.
QUESTION: Sean can you talk about the visual style of shooting?
SEAN: We wanted to shoot on film to have a quality that was specific to film. We wanted something that represented the feel of the farm -- dusty, dirty, overgrown -- in a subtle way. Inside the home and the barn I always wanted them to be able to see out the windows so you could see inside the house it was dark. We decided to shoot the lake scenes the same way, the dark milkiness and the blacks. It was about creating that mood and texture that follows Marthaís performance and state of mind.
QUESTION: Was there ever a question about the long title?
SEAN: Not for me, but sure for marketing people. I thought of the title very early on and always said if anyone comes up with a better one, Iím open to it. No one ever came up with another idea. Iím a very collaborative person and open to ideas.
(Read Diana Saengerís review of Martha Marcy May Marlene by clicking here.)
PHOTO of Sean Durkin courtesy of Fox Searchlight Pictures/Jody Lee Lipes.