Joel Freeman Interview
by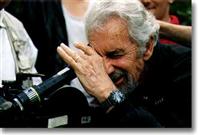 Veteran producer Joel Freeman drops by Movie Addict Headquarters on July 27th to discuss his remarkable film career. Joel knows the movie business inside and out, backwards and forwards! His credits include being a former executive with Warner Brothers, Warner Seven Arts and a producer at MGM. He's also served as an assistant editor, assistant director, production manager, and executive producer.
Joel's impressive successes in the movie industry include such classics as Shaft, Adam's Rib, Summer Stock, Love at First Bite, The Heart Is a Lonely Hunter, Camelot, Music Man, and many more. He received the Director's Guild Award for Bad Day at Black Rock and the NAACP Image Award as Producer of the Year for Shaft. Joel is a member of the Directors Guild of America, the Producers Guild of America (recipient of the Lifetime Membership Award) and the Academy of Motion Picture Arts & Sciences. In addition he served for many years on the Board of the Entertainment Industry Foundation.
It's no wonder that Steven Jacobs, who currently specializes in creative financing, has joined forces with Joel in a new venture known as The Freeman Jacobs Company, (FJC). FJC is in talks with independent financial sources to ensure FJC's strength and the continuation of Joel's movie successes. FJC possesses a slate of motion pictures and an arsenal of animation projects. The banner will be opening with screenplays like Barnaby, Booker, and Shattered Image (The King of Rock & Roll).
The "Joel Freeman Interview" airs at 1 p.m. Pacific Time (4 p.m. Eastern Time) on BlogTalkRadio on Tuesday, July 27. During the live show listeners are invited to call in and to participate in a chat. An archived segment will also be available.
CALL-IN NUMBER: 646-478-5668
HOST: Betty Jo Tucker
PRODUCER/CO-HOST: Nikki Starr
CO-PRODUCER: Misha Zubarev
LINK TO LISTEN: Click here on or after July 27, 2010.
(For more information about Joel Freeman, please go to www.JoelFreemanProductions.com.)