Anniversary Antics
by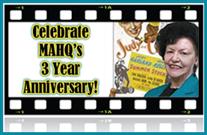 To celebrate three years of film fun on BlogTalkRadio, Movie Addict Headquarters has scheduled an "Anniversary Antics" show for Tuesday, June 22. Popular film critic A.J. Hakari, the famous Mad Movie Man, has agreed to join host Betty Jo Tucker, co-host Jazz Shaw and producer Nikki Starr to reminisce about favorite MAHQ moments, most shocking guests, and more. This special show will also feature memorable clips, a book giveaway – and a few surprises for everyone.
Books to be given away in a random drawing include:
Casablanca Film Trivia: Here's Looking at You, Kid! By Tom Barnes
Everything I Need To Know I Learned from a Chick Flick by Kimberly Potts
Confessions of a Movie Addict by Betty Jo Tucker
Over the past three years, Movie Addict Headquarters has aired 150+ episodes, which are still available as archived segments. Here's a partial list of the show's fascinating guests: Debbie Reynolds, Cloris Leachman, Fred Willard, David Zayas, Julie Benz, Tony Curtis, Joe Mantegna, Michelle Monaghan, Tippi Hedren, Tanna Frederick, John P. McCarthy, Lorna Luft, Alan Menken, Michael Emerson, Tim Reid, David Worth, Nell Minow, Steven Bauer, Jason Connery, Tim Daly, Barry Bostwick, Margaret Avery, Tony Luke Jr. and Robert Osborne.
Several iconic movies and stars have received Tribute Shows on Movie Addict Headquarters, including Singin' in the Rain, A Christmas Story, Some Like It Hot, Casablanca, Judy Garland, Paul Newman, Michael Caine, Ingrid Bergman, Hugh Jackman, Jackie Chan and Jack Lemmon. Independent films and filmmakers have also been spotlighted in shows featuring Ravi Godse, Fred Wiebel, Phil Hall, Henry Jaglom, Todd Langen, Haylar Garcia, Misha Zubarev, Gary King, and others.
Along with A. J. Hakari, noted film critics Diana Saenger and James Colt Harrison ably assisted with many interviews and discussions on Movie Addict Headquarters during the past three years. They have added impressive insights as well as excitement to the show -- as have our perceptive listeners who participated in the Chats or called in to the show.
"Anniversary Antics" will air on Tuesday, June 22, at 4 p.m. Eastern Time (1 p.m. Pacific Time).
During the live show, listeners are invited to call in and to participate in a chat.
CALL-IN NUMBER: 646-478-5668
LINK TO LISTEN: Click here on or after June 22, 2010.
(Anniversary graphic design by Nikki Starr. © 2010 Nikki Starr Production. All Rights Reserved.)