Real-to-Reel Lawman
by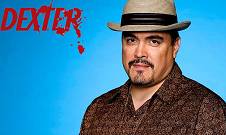 Actor David Zayas will drop by our next Movie Addict Headquarters show to discuss his film and TV acting career. Zayas portrays Detective Angel Batista on Dexter, Showtime's hit series, and has appeared in such movies as Michael Clayton and The Interpreter. His upcoming films include The Expendables with Sylvester Stallone, Bruce Willis and Jet Li -- plus 13 starring Mickey Rourke and Jason Statham.
As a fifteen year veteran of the New York Police Department, Zayas often finds the line that separates his characters from himself to be a little finer than most. Many of the characters he plays allow him to draw on his years of experience combating New York's criminal underworld. For example, in 13 Zayas plays a detective investigating an underground gambling ring where men place bets on human lives. In a departure from his usual good-guy role, Zayas will portray a bloodthirsty South American dictator in The Expendables.
Besides Dexter, Zayas has many television appearances to his credit, including shows like Law & Order and NYPD Blue that depict the grittiness and brutality of the criminal underground. He also happens to be one of the few actors with the real-life street cred to back up his performances.
This special BlogTalkRadio show airs on Tuesday, October 6, at Eastern Time ( Pacific Time). During the live show, listeners are invited to call in and to participate in a Chat. An archived segment will also be available.
CALL-IN NUMBER: 646-478-5668
HOST: Betty Jo Tucker
CO-HOST: Jazz Shaw
PRODUCER: Nikki Starr
LINK TO LISTEN: Click here.