Awards Buzz
by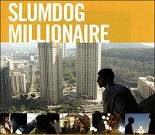 'Tis the season for movie awards to be handed out by critics and various organizations. What films and performances are receiving the most buzz this year? On our next "Movie Addict Headquarters" show, noted film critics John P. McCarthy and Diana Saenger will drop by to discuss this timely question with co-host Jazz Shaw, producer Nikki Starr and me. As an added bonus, Diana plans to announce the 2008 San Diego Film Critics Awards, which are being selected on the day before our December 16th show.
Both John and Diana attend press screenings or receive screeners prior to movie openings, so they have viewed most of the films to be released by the end of December. Their discussion should help listeners select the best films to see during the rest of 2008 as well as the DVDs of earlier must-see movies to catch up on. I'm predicting the films below will be among those covered.
SLUMDOG MILLIONAIRE
FROST/NIXON
MILK
DOUBT
GRAN TORINO
THE CURIOUS CASE OF BENJAMIN BUTTON
DEFIANCE
WALL-E
REVOLUTIONARY ROAD
John is the editor of Cineman Syndicate, and Diana operates two movie-related sites: ClassicMovieGuide.com and ReviewExpress.com. Both contribute regularly to ReelTalkReviews.com and write film commentary for a number of other outlets.
Our "Awards Buzz" discussion airs on BlogTalkRadio at Eastern Time on Tuesday, December 16. During the live show, listeners are invited to call in or to participate in a chat. The call-in number is 646-478-5668. An archived segment will also be available.
What films and performances should receive awards this year? We would love to hear from you!
Listen to this special "Movie Addict Headquarters" show by clicking here on or after December 16.
(Photo: Slumdog Millionaire. © 2008 Fox Searchlight Pictures. All Rights Reserved.)