Antwone Fisher Story, The
by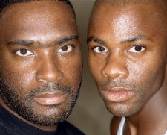 Sitting in a high-rise hotel in San Diego on a warm sunny day, screenwriter Antwone Fisher's face is a mirror of contentment. The young man who turned his memoir into one of the most talked about films of the year, is doing what he loves most, making a living at writing. But he will never forget the journey that got him here.
Born to a mother in prison and a father who was murdered by a girlfriend before Fisher was born, he was raised in a foster home where he was emotionally, physically and sexually abused. In Finding Fish, his memoir, Fisher details such horrors growing up that it's hard to imagine adults could treat kids so cruelly.
Destined to be a survivor, Fisher overcame all obstacles. He became an enlightened man who turned barrenness into success. Sinking deep into the waves of despair, writing, he discovered, was his life-ring. After leaving his foster home as a teenager he was placed in a boy's detention center. Released at 18, but with no family to lean on, Fisher became homeless.
"It was then I found out there are deceitful people looking for homeless kids," he said. "They offer food and a way to exist. I call it, 'The world at night.'"
Fisher is talking about making kids become prostitutes, sell drugs or run numbers, as he did. He quickly realized this journey would end in disaster so he joined the Navy, where his bottled up anger about his life's situation, could not stay buried.
"I was ashamed to tell people what happened to me in my young life," he said. "You find a 18 or 19 year-old kid who looks intimidating, and no one wants to take the time to figure out what's going on. In the Navy there were resources."
After meeting a Navy psychiatrist and discovering writing, Fisher turned his life around. During his 11 years in the Navy he traveled the globe and saw a world he never knew existed. He wrote and sold poems to the guys – who then sent them back home. After leaving the Navy, he became a correctional officer at a federal prison, and later a security guard at Sony Pictures, where once again, his life's journey would change. In addition to his poetry, Fisher began writing his life story, which required a trip back to Cleveland to find his lost family.
His words not only became his own life-ring, but their power became evident to anyone who read his work. Fisher attended a free screenwriting course taught at a church by producer Chris Smith. When buzz about his real life began drawing interest, producer Todd Black learned of the story from Smith, and took Fisher under his wing. Together they pitched the story to several studios. Some were interested but would not let Antwone, an unknown who they feared couldn't write a screenplay, have that job.
"I wouldn't budge," he said. "I was insistent that I write it. So Todd told me to quit my job, and he'd pay me a salary to write the screenplay."
Black had a strong faith in Fisher right from the beginning. "It was an incredible story of survival and strength," Black said. "If I had to mortgage my house to give him the money to write it, I would have, because I knew in my heart that he could do it."
Six months later they sold the script to Fox. Certainly part of Fisher's break was his ability to transfer the hurt and pain inside him onto the screen, and at the same, express the compassion that had survived someplace within as well. In his book he describes the time he goes to meet his mother as a man and arrives ready to unload a lifetime of pent up hateful words. But in one moment of seeing her, everything changes. He describes the meeting in these eloquent words: "In the place inside me where the hurt of abandonment had been, now only compassion lived. The speech I had prepared was meaningless. What I understood now was that even though my road had been long and hard, my mother's had been longer and harder."
Putting that kind of emotion on the screen, Fisher said, is easy. "Emotions are powerful. I dig making people cry. I like that more than doing comedy. The hard thing to achieve is to write the crying and happy parts at the same time."
Fisher does this in his book of poetry, Who Will Cry For the Little Boy. Even the joyful poems to his daughter about love yield a powerful undercurrent of emotion wherein the reader feels an element of sadness.
"We're all the same because we're all human," he said. "When I write from life's experiences and people read them, they don't think about the poem so much but they relate. As, 'Yeah. You took me there, to that place for a minute. It's a joyous thing to be brought to a place unexpectedly."
Fisher admitted he was surprised by the reaction to Antwone Fisher, a low budget film with unknown actors, and no standout songs, dancers or symphony. So what made it work?
"A big star who thought the story about social services had value to society," said Fisher. "Denzel and I wanted to show people that you can make it. We knew what a service a movie like this would do. It's not just my story though, but a lot of people's, and it's that emotional punch that people identify with."
Many industry people identified with Fisher's story and agreed to a part of the production, including Denzel Washington who made the film his directing debut. Washington told Fisher, "It's not about me or my debut. It's really about taking care of you and taking care of your story."
Fisher was amazed by the other talent that came on board. "I was so grateful for the talents of Phillipe Rousselot the cinematographer of A River Runs Through It, Conrad Buff, the editor of Titanic, Willie Burton who did the sound on The Shawshank Redemption and The Green Mile, and Nelson Coates who did the design. It was the best crew."
Fisher's determination and his attitude about past and future successes are summed up in a line from his book, "Nothing happens to us by chance. My course was not determined by the whims of cruel weather, it was set carefully and precisely. Everything that happened did so for a reason, at exactly the right time, in exactly the right way."
Married (but not to woman in the movie who was a composite of several women), Fisher and his wife, LaNette, have two daughters. At this moment as he looks over the San Diego harbor, Fisher brings to mind a passage he wrote in Finding Fish about finding acceptance.
"The gusty winds of my melancholy youth have shifted, and brought me to a fine sunny day. I'm thankful and fortunate to have found some peace in my lifetime."