Is 'Enchanted' Enchanting?
by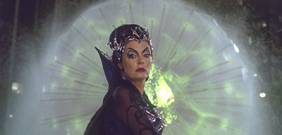 Iím happy to announce that film critic Mack Bates will be my special guest on the upcoming ďMovie Addict HeadquartersĒ show. Bates plans to discuss both Enchanted, Disneyís latest fantasy film, and Susan Sarandon, who portrays an evil queen in the movie. An avid Sarandon fan, Bates conducted an in-depth interview with the Oscar-winning actress a few years ago for The Leader, a University of Wisconsin student newspaper. He even credits Thelma & Louise as his motivation for enrolling in the Universityís Film Studies program.
Personally, Iím indebted to Bates for his wonderful contributions to my book about Sarandon (Susan Sarandon: A True Maverick), and I enjoy reading the film reviews he now writes for the Milwaukee Journal Sentinel.
Topics Bates and I hope to cover during the Tuesday, November 27th program include:
Positive or negative reactions to Enchanted
Sarandonís performance in the film
Reasons for Sarandonís longstanding career
Sarandonís most impressive performances
Sarandonís most underrated films and performances
As usual, listeners are invited to call in with questions or comments, and producer Nikki Starr will help with a book giveaway. The call-in number is 646-478-5668.
This show airs live on BlogTalkRadio next Tuesday, November 27, at Eastern Time. An archived segment will also be available.
To hear the show, click on this BlogTalkRadio link at the scheduled time or after the live broadcast.
(Photo: Susan Sarandon as Queen Narissa in Enchanted. © 2007 Buena Vista Pictures. All Rights Reserved.)