My Top Ten Films of 2019
by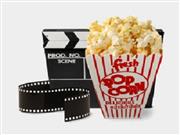 Time to reveal my top ten favorite films of 2019. As always, a movie makes it to my list if I want to see it over and over again. I also admit to being the world's most avid movie musical fan, so it's no surprise that two musicals are included. But the rest of the list is quite genre diverse. It contains a drama, a classic remake, a mystery, a romantic comedy, an animated movie, a dramedy, a documentary, and an historical action film. After the end of the list, I've awarded several Honorable Mention movies as well as favorite scenes/sequences of the year plus a favorite movie quote.
Here are my top ten films in order of preference:
YESTERDAY. Put yourself in Jack Malik's strange situation. Recovering from a motorcycle accident that happened during a power outage, this disillusioned songwriter/singer discovers he's the only one who remembers the Beatles or any of their tunes. What would you do? Overflowing with the joy of music, this extraordinary film shows what Jack (played convincingly by Himesh Patel) decides and how this changes his life forever. Directed with great care by Danny Boyle, this is a fun, charming and creative musical homage to those four talented lads from Liverpool.
MARRIAGE STORY. Credit goes to director/writer Noah Baumbach for his compassionate treatment of the two main characters, Nicole and Charlie, who are going through a painful divorce. And, of course, to Scarlett Johansson and Adam Driver for their realistic portrayal of two creative, talented people who have forgotten how much they love each other. Both actors deliver the goods -- and more. They even sing a couple of songs that fit right into the plot.
LITTLE WOMEN. Filmmaker Greta Gerwig treats us to perfect casting and perhaps the liveliest movie presentation of this iconic tale by Louisa May Alcott, which has been adapted to the screen four times previously. None of the actresses playing Jo, the main character, touched me as deeply as Saoirse Ronan does in Gerwig's version. And Timothée Chalamet impressed me with the best ever interpretation of Laurie, who suffers from his unrequited love for the independent Jo, one of the four sisters whose writing always seems to come first.
HIGH STRUNG FREE DANCE. I was on cloud nine watching every scene of this terrific musical about putting on a Broadway show. Think Chorus Line meets 42nd Street. The movie includes exciting auditions, fascinating rehearsals, fantastic routines, and a spectacular finale. Director/co-writer (with Janeen Damian) Michael Damian and choreographer Tyce Diorio made sure this lively offering boasts many types of dancing performed by sensational dancers, and the plot never overshadows those visual delights.
THE PEANUT BUTTER FALCON. Can a youngster with down syndrome become a successful wrestler? Actor Zach Gottsagen removed all doubts I had before watching this lovely human interest film. Shia LaBeouf, Dakota Johnson, and Thomas Haden Church deliver excellent performances as the important folks in this courageous young man's life. Amusing, sad, heartbreaking, and uplifting, the movie emphasizes persistence, trust, compassion and love. Plus, it's entertaining all the way through.
KNIVES OUT. Written and directed by Rian Johnson, this surprising film includes almost everything I like to see in the mystery genre. It takes place in an old Gothic mansion, exudes an atmosphere of suspense, drops a lot of clues, introduces fascinating suspects, adds a bit of humor, and kept me guessing right up to the end. I can't help thinking that Agatha Christie would enjoy this memorable mystery about a wealthy crime novel writer's death and whether it was suicide or murder. Daniel Craig takes time off from 007 to portray a celebrity detective who joins forces with a caring nurse, played by Ana de Armas, to solve this complicated mystery while dealing with the victim's many relatives who all feel entitled to inherit his wealth. I really hope there's a sequel in the works.
MOONLIGHT SONATA: DEAFNESS IN THREE MOVEMENTS. I couldn't stop crying when this remarkable documentary ended. Its humanity and beauty absolutely overwhelmed me. The precious home videos of a deaf young boy trying to find his voice and learning to play one of music's most famous compositions, as well as those of his caring family members got to me big time. Because I hear only about 10% of any sounds around me now, my sensitivity to this movie's theme is probably enhanced. Still, I think anyone who enjoys seeing almost impossible obstacles being challenged should put this true story on their must-see list.
PLUS ONE. What do you get when you combine the edginess of Bridesmaids, the humor of My Best Friend's Wedding, and the heart of When Harry Met Sally? Answer: Plus One, a clever romantic comedy about two longtime friends facing lots of weddings who become each other's Plus One. Why? To help them get through each festivity without going bonkers. Maya Erskine and Jack Quaid deliver highly watchable comic performances here. I love the originality of this film's funny plot, but worry, rom-com fans. It's still a bumpy road for these two, even after they discover their real feelings for each other.
KLAUS. This welcome new addition to Christmas lore presents a story about how and why Santa Claus started delivering toys on Christmas. Although this is cherished territory, the filmmakers and their cast and crew have cooked up a creative fairy tale that's both amusing and thought-provoking. Major ingredients include: a reluctant postman; a grieving toymaker; neglected children; and a village torn apart by an age-old feud. Uplifting themes of redemption and the power of kindness anchor this excellent movie directed by Sergio Pablos. The film's quirky animation grabs our interest right away. Although sometimes quite frightening, it also offers scenes of great beauty.
THE KING. The King focuses on the changes in the Prince of Wales' (Timothée Chalamet) wayward behavior after he becomes Henry V, sometimes called the "Warrior King." He earns that nickname because of his surprising military victory against France at the bloody -- and very muddy -- 1415 Battle of Agincourt, where England's forces are outnumbered by the French army. Chalamet's voice and diction shine here, and Robert Pattinson uses every nerve in his body to inhabit the role of evil French Dauphin.
HONORABLE MENTION FILMS (in no particular order): Harriet, Hotel Mumbai, Just Mercy, A Beautiful Day in the Neighborhood, Linda Ronstadt: The Sound of My Voice, The Farewell, The Black Godfather, Be Natural: The Untold Story of Alice Guy-Blaché, Once Upon a Time in…Hollywood, Late Night ,Good Sam, Arctic, Dumbo, Velvet Buzzsaw, Out of Blue, Turnover, Two Ways Home, Remember Amnesia
FAVORITE SCENES/SEQUENCES:
Leonardo DiCaprio, costumed as a disheveled cowpoke for a Western movie, being upstaged by a precocious little girl while both characters are waiting to be called to the set in ONCE UPON A TIME IN…HOLLYWOOD
Felicity Jones' amazingly athletic entrance in THE AERONAUTS
Adam Driver's emotional singing of "Being Alive" in MARRIAGE STORY
The suspenseful sequence depicting Harriet Tubman's (Cynthia Erivo) initial escape in HARRIET
Emma Thompson delivering a rousingly funny retirement speech in LATE NIGHT
Himesh Patel singing "Yesterday" to a group of awestruck friends in YESTERDAY
The action-packed muddy battle scene in THE KING
The heart-tugging "Over the Rainbow" musical sequence at the end of JUDY
FAVORITE MOVIE QUOTE:
In HIGH STRUNG FREE DANCE, a quiet backstage scene shows two cast members of a new Broadway show waiting nervously as the houselights dim before the first-night curtain opens, and one whispers to the other that it doesn't matter if you are a member of the audience or in the show, because --
"This is the moment when we all are waiting for the magic to begin."
And that's what the movies mentioned above brought me in 2019 -- MAGIC.