Interview with a Crustacean Revisited
by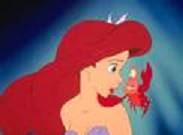 This year's October 3rd release of a new two-disc Platinum Edition of Walt Disney's The Little Mermaid, my favorite "under-the-sea" movie, brings back memories of bizarre interview I had with one of its stars. Most people have never had a telephone conversation with a famous shellfish, let alone one who speaks from a Park Avenue apartment in New York City. But this amazing experience really happened to me.
As part of the public relations program for the 1997 re-release of The Little Mermaid, Samuel E. Wright, who provided the vocal antics for Sebastian, the Calypso crab, agreed to phone interviews while appearing on Broadway in The Lion King. Wright, obviously excited about this re-release, explained to me how he kept Sebastian alive since the movie's 1989 debut through concerts showcasing his two big musical numbers, "Kiss the Girl" and "Under the Sea." Noticing the enthusiasm in his deep, friendly voice as he talked about Sebastian, I couldn't resist asking, "Would you be able to put Sebastian on the phone?"
"Well, he might be scurrying around here someplace," Wright replied. When I mentioned it might be difficult for Sebastian to talk on the phone because of his claws and all, Wright declared, "Oh, no. I'll just hold the phone down to his ear."
And thus began the following conversation with Sebastian, a tiny Calypso crab with a very big ego, as first reported in San Diego's Forum Publications on November 27, 1997:
SEBASTIAN: Hello. Who is dis person who wants ta talk with me?
ME: Hi, Sebastian. I'm one of your biggest fans.
SEBASTIAN: Who isn't? Whadda ya wanna know?
ME: Well, for one thing, Sebastian, how did you enjoy the job of watching over Ariel, the little mermaid, to keep her out of trouble?
SEBASTIAN: Have ya ever held a greasy fish in yer hand? Dat's what it's like. She's very slippery, dat Ariel. But she's flambunctious. Dat's one a my two hundred dollah words.
ME: Do you have any advice for other crustaceans who might get offered a similar job?
SEBASTIAN: Stay in your shell! Don't get outta da water. Cause da only one who can take care o' Ariel is me.
ME: Do you think Ariel and Prince Eric lived happily ever after?
SEBASTIAN: I know dey did. I saw dem two days ago.
ME: What were dey, I mean they, doing?
SEBASTIAN: Watchin' da Lion King on TV.
After Sebastian put his roommate back on the phone, I inquired about any new projects. Wright revealed he would be doing the voice of Kron, leader of the iguanadons in Dinosaur, another Disney animated film. I asked if it might be possible to visit with him again when that movie was completed. He answered, "Maybe so. Perhaps you can talk with Kron then." I'm disappointed that interview never happened.
(That interview was reprinted in CONFESSIONS OF A MOVIE ADDICT, my life-at-the-movies memoir, published by Hats Off Books. It also appeared later on ReelTalk Movie Reviews.)
Beginning October 3rd and for a limited time only, Walt Disney Home Entertainment is offering a Two-Disc Platinum Edition of The Little Mermaid, complete with intriguing bonus items containing information about the film's history and Hans Christian Anderson, author of the popular fairy tale that inspired the movie. I was surprised to find out that Anderson's longing to belong to another world paralleled Ariel's yearnings.
Also included are: The Little Match Girl, a beautifully presented short animated feature based on another poignant Anderson story (but perhaps too sad for very young children); an all-new "Kiss the Girl" music video performed by Ashlee Tisdale from High School Musical; a virtual under-the-sea ride on a seashell; deleted scenes; and a sneak peek at the upcoming Little Mermaid III movie.
Adding to the quality of this two-disc DVD are the sharper images and more dazzling colors of The Little Mermaid as digitally restored with Disney's 5.1 enhanced home theater mix. It's a must-have for Walt Disney collectors.
(Photo: © 1989 Walt Disney Pictures. All Rights Reserved.)