Academy Will Exhibit Harold Lloyd's Stills
by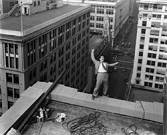 Movie fans lucky enough to be in Beverly Hills from September 15 through December 17, 2006, will have the opportunity to attend an exhibition of stills from some of Harold Lloyd's classic movies. Below is a recent press release from the Academy of Motion Picture Arts and Sciences describing this special gallery show.
Beverly Hills, CA — Photographs of master film comedian Harold Lloyd teetering off a ledge in Feet First (1930) and cavorting with a monkey in The Kid Brother (1927) will be among the 110 rarely seen images featured in the Academy of Motion Picture Arts and Sciences' new exhibition, "Out on a Ledge: Photographs of a Comic Genius, from the Harold Lloyd Collection," opening on Friday, September 15, in the Academy's Grand Lobby Gallery in Beverly Hills.
"Out on a Ledge" will highlight Lloyd's life both in front of and behind the camera. The installation will present stills from 41 Lloyd films, including A Sailor-Made Man (1921), Dr. Jack (1922), Why Worry? (1923), Girl Shy" (1924), The Freshman (1925), For Heaven's Sake (1926), Speedy (1928), and many one- and two-reelers.
"This exhibition will showcase the magnitude of my grandfather's work not only as a comedic genius, but also as an independent filmmaker and actor who advanced the notion that a comic lead could also be a romantic male lead," said Suzanne Lloyd. "Most of these photographs have never been displayed publicly."
Lloyd's career spanned from 1912 to 1947 and included more than 200 films ranging from silent one-reelers to feature-length sound pictures. With the invention of his classic character, an average-looking young man who happened to wear large round glasses, Lloyd hit upon a comedic persona that became his trademark. He performed his own stunts, whether it meant crashing cars, walking on construction girders, playing college football with the real USC team or, most famously, hanging from the hands of a clock tower.
"I believe these photographs will be a revelation to all who see them, giving unprecedented insight into the work of a true Hollywood legend and bonafide motion picture genius," said "Out on a Ledge" curator Robert Cushman.
Throughout the 1920s Lloyd's films topped the box office, and in 1923 he started producing his own movies, taking control of all phases of production from scripting to editing.
A founding member of the Academy of Motion Picture Arts and Sciences, Lloyd was awarded an Honorary Oscar in 1952 as a "master comedian and good citizen," a tribute that recognized his charity efforts, particularly for the Shriners.
In 2002 Suzanne Lloyd donated nearly 3,000 original still photographs and negatives and approximately 85 scrapbooks documenting Lloyd's personal life and film career to the Academy's Margaret Herrick Library. The exhibition is curated from the collection and celebrates its donation.
"Out on a Ledge: Photographs of a Comic Genius, from the Harold Lloyd Collection," will be on display through Sunday, December 17, 2006. The Academy's galleries are open Tuesday through Friday, , and weekends, to Admission is free. The Academy will be closed during the Thanksgiving holiday weekend -- Thursday, November 23, through Sunday, November 26.
The Academy of Motion Picture Arts and Sciences is located at 8949 Wilshire Boulevard in Beverly Hills. For more information call (310) 247-3600.
(Photo: Harold Lloyd in Feet First, from the AMPAS® Harold Lloyd Collection)