An Interview with Producer Michael Z. Gordon
by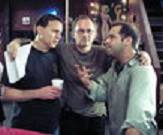 "While I was on the set doing music for Pulp Fiction, I saw the whole thing take place and it was so exciting," Michael Z. Gordon recalled in answer to my question about what motivated him to become a movie producer. "Even though I had no previous experience, I decided right then and there that's I what I wanted to do."
Gordon explained that a producer is a facilitator, "a person who finds a project, usually a script." Something may already be attached to the project -- a director possibly -- but the producer puts all the pieces together. According to Gordon, the producer assembles all the necessary elements, including money, director (if not already on board), cast, and production crew. "The producer keeps the project together by overseeing everything," he said.
What are the biggest challenges? "A lot of things may go wrong," Gordon replied. "For example on The Devil and Daniel Webster, so many bad things happened we thought the devil might have been responsible. We even went to HBO and proposed to do a documentary about it. The financing bank went under, law suits were flying and the film took one and a half years of editing and post-production. But thanks to Bobby Yari (one of the producers of Crash), the movie should be coming out next year. It stars Anthony Hopkins, Alec Baldwin, Jennifer Love Hewitt and Kim Cattrall."
This disappointing experience failed to dampen Gordon's interest in his chosen profession. He's served as producer on such films as Narc, In Enemy Hands and Silent Partner, and he's currently working on a number of intriguing projects, including co-writing My Own Worst Enemy with Dan Guardino. "Basically it's the life of this young guy who gets moved from city to city and rises above it all to find success in the entertainment world," Gordon explained.
Among other projects Gordon mentioned are: Holla, an urban/horror comedy which already screened at a recent film festival to a sell-out crowd; Mafiosa, a mob sitcom; Grapefruit Moon, starring Michelle Rodriguez from TV's Lost; The Salvation of Barry, a TV documentary series concerning a man trying to find out about different religions; and The Captive, based on the true story of a young actress held captive.
When describing what he considers a "dream project," Gordon talked enthusiastically about Heartstoppers. "I wrote this script for Michael Caine 10 or 12 years ago, then read it again recently and thought, 'this isn't so bad' -- so I'm working with Rafael Monserrate in re-writing it," he explained. "The reason I like it is because it's a dark comedy and the kind of movie that would appeal to general audiences."
Before becoming a producer, Gordon devoted most of his time to music. He's written over 200 songs, and 100 of them have been recorded. "I don't write much music now because producing movies is a whole new world that requires a different focus," he admitted. "But I'm hoping one of the songs I wrote with the late Jimmy Griffin will be used in The Devil and Daniel Webster as a memorial to him."
When asked to name the most important thing he would like people to know about him and his work, Gordon said, "That I'm interested in the quality of a project. Not every project is going to be a big success. But if people walk away and say 'that was a well-made movie,' then I'm happy. Take Narc for instance. It wasn't a big box office success. But it was well-reviewed and made money as a DVD."
Rafael Monserrate, one of Gordon's colleagues, vouches for that. Listening in on our phone conversation, Monserrate added, "When Michael looks at a project, he looks at the integrity of the project. He's not a schmoozer or a hustler. He definitely wants to be involved in quality productions."
(Photo: Producer Michael Z. Gordon, production manager Reinhard Schreiner, and director Rafael Monserrate talking about Mafiosa.)