Ah Humanity!
by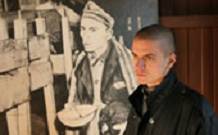 Too many of its entries not finding distribution, the Film Society of Lincoln Center's Human Rights Watch International Film Festival provides a welcome, annual, necessary opportunity to screen what may never see the light of a wider public. Interspersed with the sixteen-short Media That Matters Film Festival and as cogently urgent as ever, this year's June 8-22 Seventh Edition offers nineteen countries' (the U.S. among them) twenty-four fiction and non-fiction contributions, including eleven New York first showings, one world, one North American and two U.S. premières; a sneak preview and an opening benefit screening and reception; the awarding of the Nestor Almendros Prize, named for that co-founder of HRWIFF; and "What Future? Street Children in the Democratic Republic of Congo," Marcus Bleasdale photographs from that nation which Doctors Without Borders/MSF designates "the most forgotten crisis."
Groundbreaking, heartbreaking or, understandably quite less often, heartwarming, passionate and involved or else consciously distanced to avoid the angry emotional-social breakdown experienced by one film's concentration camp tour guide, encompassing a gamut of peoples, places and issues, the Festival realizes the camera and screen's responsibility for not only entertaining but, equally important, raising awareness about ignored, ill- or misreported abuses all over the globe.
While there is the rare "ultimately life-affirming story" such as Smiling in a War Zone or benefit-screening and closing-night The Refugee All Stars (co-presented with the New York African Film Festival), a three-year study of half-a-dozen Sierra Leonean exiles who band together to make successful music in Guinea, most are concerned with near hopeless fellow humans urgently in need of international help from men of goodwill. Included are considerations of state crimes in the Euro-American world -- The Camden 28, The Forest for the Trees, My American Dream; How Democracy Works Now, The Road to Guantanamo, Rain in a Dry Season and Pierrepoint -- though, as one would expect, emphasis falls on crises in the Third World, some of them causes célèbres while others pass uncelebrated.
Unsurprisingly, the Middle East and its conflicts figure prominently. Triple prize-winner at 2006 Sundance, Almendros Prize recipient James Longley's Iraq in Fragments considers ordinary Iraqi citizens over two years, in three geographically separated areas. More disappointing on the same war-ravaged country is director/co-writer Javier Corcuera's Winter in Baghdad/Invierno en Bagdad, its title metaphoric as much as literal. Six years ago, this Madrid-educated and –based filmmaker's three-part The Back of the World/La espalda del mundo was a powerful minimalist statement presenting child, woman and mother, and man in, respectively, his Lima birthplace, in Turkey and on a Texas Death Row. Focus in this current New York première work is on the former two, that is, children and mothers, and, imaging the deprivation and fear of the capital's inhabitants, bound into repetitious overkill -- no pun -- in one location, one reduced cast of sufferers, one point sledgehammered home.
Opening with news footage of anti-war demonstrations, Corcuera's film returns that first winter to find and document people met on an earlier pacifist trip and to encounter others. Centering on a shoeshine boy, bereaved dedicated kindergarten teacher Rabiha, the child Mauyita with her burn-impaired right arm and hand, and scarred traumatized Mustapha, but also interviewing parents, doctors, morgue attendants and elderly men, the documentary balances their bewildered psychological scars against a unanimously reiterated love of their city and land epitomized by mighty Tigris, where the medieval Church sited the lost earthly paradise.
Moving in what it depicts -- civilian agony and American ("Coalition" is not breathed) duplicity -- Winter in Baghdad circles back too often to its thesis. As with media bombardment, the faces of horror numb the viewer, who, as in homeopathy, grows immune and inured.
A continent away, a world away, in its New York première BBC rights documentarian Rex Bloomstein's KZ asks the corollary "where do you go when the story of the unspeakable has been told a thousand times, the images of the unspeakable shown a thousand times, when the mind is numb?" No less committed, this non-fiction is more controlled and clinical and therefore works better on-screen.
From an unusual vantage point it rises above many uninspired others on the fashionable subject. The unspeakable here is the Holocaust, concretely as it occurred at the concentration camp -- the title refers to the German abbreviation -- just outside picture-postcard gemütlich Mauthausen on Austria's Danube. Relying on not a single frame of the standard historical footage, re-creation or survivor testimony, the distanced camera instead trains on tourists, tour guides and outwardly untroubled townspeople at the eerily tranquil site.
Many of the former are secondary school students on supervised trips, experiencing in the flesh what blackboards and textbooks could not prepare them for. Simply or in assorted mixed groups, adult visitors respectfully comment on the experience here, but it is the youngsters who are most shocked and who are, after all, the world's hope and future. One girl becomes physically ill and needs help while a majority turn solemn beyond their years as no-holds-barred official guides detail camp procedures and protocol, methods and conditions, inconceivable but made real standing beside memorial plaques, crematory ovens, the "wailing wall" and "death stairs" and inside the actual "dorms" and "showers."
The guides are male, some not much older than these schoolkids, working here in substitution for compulsory military service, and at times working out their own grandparents' Nazi pasts. But greater focus is on the forty-something-ish Harald Brachner, whose job has taken him down the road to obsession with the nightmare he describes daily, to psychological troubles, alcoholism and family problems.
Guide Brachner stands alone in the unvisited field where thousands died of exposure or disease, then chillingly laughs outside the beer stein-accordion-lederhosen touristy Cider Tavern where S.S. officers once caroused. To his solitary footfalls, he closes up the place in the evening and asks the camera to hear the same ghosts he does. Contrasted, even more awful, are the present-day Mauthauseners, those who live off the tourist trade, those newcomers for whom "living here is a perfect dream" and those now-elderly men and widows who lived well when the war went well and "did not really know" what occurred in the fortress-prison first for "inner enemy" Italians, Frenchmen, Republican Spaniards and Dutchmen and, the last camp liberated, increasingly for Jews, Russians and Poles.
Allowing issues and character to develop without insisting, this "contemporary yet timeless . . . groundbreaking film about facing our ultimate demons" is a reflection not so primarily on the dark past per se as on people's surprisingly surprising ability to exist pleasantly by refusing or revising the darkness contained within that past.
Eight thousand miles southwestward, the threatened Pehuenche-Mapuche tribal homeland is yet another piece of the Laureate's "world which is the world of all of us." There, the Bío-Bío flows where native Araucanians stalemated the Conquistadores, claimed to have killed forty thousand of those bearded invaders, and in 1612 achieved official recognition of the river as their own northern boundary.
Never acknowledging or approving, and only tokenly and misleadingly even contacted, today's indigenes are being bullied from their misty farms, pastures and ancestral burial grounds, hoodwinked and strong-armed by white politicos in Santiago and Madrid arm in arm with transnational corporate priorities.
Manel Mayol's Switch Off/Apaga y vámanos is one of several of this year's Festival entries to recount multinational arrogance and environmental disaster, e.g., Source/Zdroj (oil), Total Denial (oil), Black Gold (coffee). However, this Catalonian director fails to see that the movie house is not the one-sided lecture hall and that interviews strung together with lined television news clips and flat river pans do not carry eighty-seven minutes' need for story-approaching exposition, conflict, complication and resolution.
There is the novel if obvious, and too often, thread of Manuel/Manel from Barcelona's repeatedly telephoning but never getting beyond evasive secretary Beatriz, for Spain's energy behemoth ENDESA (acronym for National Electricity Company, Inc.) does not respond to mere public opinion. Privatized in 1997 by the conservative Aznar government, heavily capitalized and a major greenhouse gas culprit, the power company submerged tribal holdings with its recent Ralco Valley dam, and Pinochet-era laws are being enforced to outlaw and silence opposition.
The point is clearly poignant, but as in particle physics, which is accused of conforming to whatever observational methods are used and seeing what an observer expects, the presentation is so relentless and limited to disgruntled indigenes and sympathetic attorneys and activists, that it will neither hold interest nor entirely persuade the uncommitted. There is lacking the thematic and visual progression that separates filmmaking from mere diatribe and defines it as an art.
Yet, as always, among the varied approaches and goals in the current year's Human Rights Watch International Film Festival, are works that will entertain or encourage or even amuse, but, above all, there are films to educate and move to awareness, outrage and, one hopes, to involvement.
(Photo: from Rex Bloomstein's KZ.)