Alan Cumming on 'Sweet Land' and More
by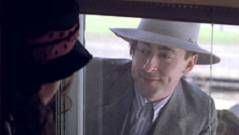 Sweet Land, one of the movies screened at the 2006 Vail Film Festival, features the multi-talented Alan Cumming in a supporting role, but this independent film might not have been made without his help. "Ali Selim, the writer and director, is a friend of mine, and I had been aware of the script for a few years until one day I woke up and thought it was insane that this beautiful film wasn't produced yet," he explained in a recent e-mail interview. "So I started to help Ali make it happen …that is why I am credited as a producer."
According to Cumming, working with Selim turned out to be quite enjoyable. "Although this is Ali's first movie, he has directed commercials for many years and is therefore incredibly experienced, detailed and -- what I especially admire -- patient. It's always exciting to work with someone who is so passionate and so clear. It is infectious. Also, Ali is a great director in that every moment you spend with him is exactly where you'd like to be."
Based on a short story by Will Weaver, Sweet Land tells about the struggles of a mail-order bride who finds herself in a strange and rather unwelcoming Minnesota Norwegian-American community back in 1920. Elizabeth Reaser plays Inge, the bewildered newcomer and Tom Guinee is Olaf, the shy Norwegian farmer who sent for her. Cumming portrays Frandzen, Olaf's extroverted best friend. This splendid independent film is earning accolades on the film festival circuit, including the Audience Award at the 2005 Hamptons International Film Festival, the Prairie Spirit Award at the 2006 Fargo Film Festival and the Audience Award at this year's Vail Film Featival.
Cumming was drawn to Sweet Land for its poignancy and because it's such an unusual story. "I love that the film is undefinable. It doesn't stick to any genre and yet it is a simple tale about love and home, something everyone can relate to."
Like most moviegoers, I've enjoyed such quirky Cumming performances as Fegan Floop in Sky Kids, Mr. Folair in Nicholas Nickleby and Nightcrawler in X-Men 2. While his work in Sweet Land is less flamboyant, it still displays the unique Cumming spin his fans enjoy so much. "I suppose I put a Cumming spin on everything I do," he wrote. "It's not something for effect -- I'm just the person I am and the artist I am and I just let it all hang out and hope that people get it."
One of my favorite Cumming roles is the amoral Emperor in Julie Taymor's Titus (1999), but I'm disappointed this superb movie didn't receive more attention. Here's Cumming's theory about why Titus failed to achieve the success it deserves:
"The film came out on Christmas day and the distributors did that so it could be part of the Oscar race. Unfortunately it was lost in the shuffle because so many bigger and more mainstream films came out during that time too. And because it failed to receive any nominations it kind of fell away in terms of its visibility. I think this was sad because had it been released at a less crowded time I'm sure it wouldn't have been so overlooked. What I find interesting about it though is that the people who have seen it are really passionate about it. And passion is always good."
In addition to his work in movies, Cumming is no stranger to Broadway. He earned a Tony for Cabaret, and previews for his new show, Threepenny Opera (in which he stars as Macheath), began on March 24. Naturally, I had to ask which gives him the most satisfaction -- acting in movies or on the stage? "I see acting as the same thing essentially, whether on screen or on the stage," Cumming replied. "However, the connexion and feedback you get from a live audience is very exciting and cannot be emulated in a movie. That being said, the intensity of making a film and the seclusion of it is very attractive too and also a nice antithesis to the repetition of live theatre."

Cumming also writes, directs and edits. "I think as an artist you should keep yourself open to anything that excites and engages you," he maintains. "I think that one of the things about being an artist is telling a story, and I do that in various forms. The good thing about doing so many different things is that I feel refreshed when I come back to acting. Another thing I feel about being an artist is that you should be provocative. And so that's why I dabble in so many different areas. I even see my fragrance and body care line as part of that. It has been so fun to shake up people's perceptions of celebrity endorsement and I feel like I'm doing the world a great service by making them feel sexy. Check it out at www.cummingthefragrance.com."
Commenting on his career in show-biz, Cumming said, "I don't think there is anything else I could do that would make me feel as fulfilled as the job I have now. I feel very fecund in all aspects of my life right now and feel so lucky to have the chance to follow that through and be a part of things like Sweet Land."
What's the most important thing Cumming would like ReelTalk visitors to know about him? "Two things: I was once stranded on a desert island and there is no S at the end of my surname."
Hmm. Now there's fodder for at least one more interview.
(For more information about the 2006 Vail Film Festival, visit the official Website.)
Photo: Alan Cumming in Sweet Land, a La Salle Holland production in association with Beautiful Motion Pictures and Channel Z Films.